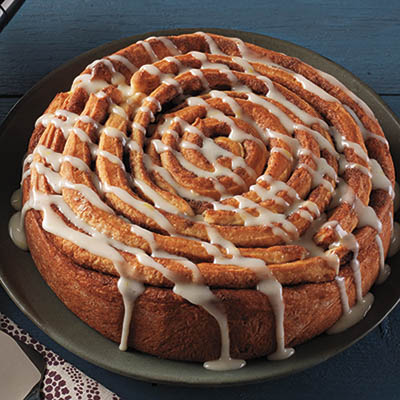 WHISKY CINNAMON SWIRL CAKE
Ingredients
Serves 10
2 tbsp (30 ml) bourbon whisky
2 tbsp (30 ml) 2 percent milk
3 tbsp (45 ml) unsalted butter, at room temperature, plus extra for greasing
2¾ cups (675 ml) all-purpose flour, divided, plus extra for dusting
3 tbsp (45 ml) granulated sugar
1 tsp (5 ml) fine sea salt
2¼ tsp (11 ml) instant yeast
3 tbsp (45 ml) unsalted butter, at room temperature
1½ tbsp (22 ml) ground cinnamon
¼ cup (60 ml) light brown sugar
1 cup (250 ml) icing sugar
⅛ tsp (0.5 ml) fine sea salt
1 tbsp (15 ml) 2 percent milk
1 tbsp (15 ml) bourbon whiskey
¼ tsp (1 ml) vanilla extract
¼ tsp (1 ml) finely grated lemon zest
Instructions
To make DOUGH: In a small saucepan, stir together water, bourbon, milk and butter over medium heat. Stir until butter has melted and mixture is hot to touch.
In a large bowl, whisk together 2¼ cups (560 ml) flour, sugar, salt and yeast. Stir in bourbon butter mixture and then egg. Add only enough of reserved ½ cup (125 ml) flour, 2 tbsp (30 ml) at a time, to make a soft dough that gently pulls away from sides of bowl.
Transfer to a lightly floured work surface and knead dough until smooth and elastic, about 3 minutes. Transfer to a lightly greased bowl. Cover with plastic wrap and set aside to rest for 30 minutes.
Meanwhile, make FILLING: Fold butter, cinnamon and brown sugar together in a bowl with a rubber spatula until well combined.
Grease an 8-in (20 cm) springform pan and line bottom with a round of parchment paper.
Roll rested dough out on a lightly floured surface to a 12 x 15-in (30 x 38 cm) rectangle. Spread Filling mixture on top. Using a pizza cutter or knife, cut dough into six 2-in (5 cm) wide strips. Loosely roll up 1 strip and place, upright cut-side down, in centre of prepared pan. Taking each additional strip, loosely coil around centre roll, pinching each strip to end of previous one. The dough should not quite fill the whole pan and be loose. Keeping coils loose ensures dough has room to expand as it rises. Cover pan with plastic wrap and set aside in a warm location until doubled in size, about 60 to 90 minutes. While cake is rising, preheat oven to 350 F (180 C).
Bake cake uncovered for 15 minutes. Then lay a sheet of foil loosely over top to prevent it from becoming too dark, and continue baking another 15 to 20 minutes or until puffed and lightly golden brown. If some coils start to rise out of cake while baking, simply press down with back of a spatula.
While cake is baking, make WHISKY GLAZE: In a medium bowl, whisk together all glaze ingredients and set aside.
When cake is done, rest in pan on a wire rack for 10 minutes before removing sides of springform pan and transferring to a serving plate. Just before serving, drizzle with Whisky Glaze. Cake is best served the same day it is made but will keep, refrigerated an airtight container or tightly covered for up to 4 days. Allow to come to room temperature before serving.
Drink Pairings