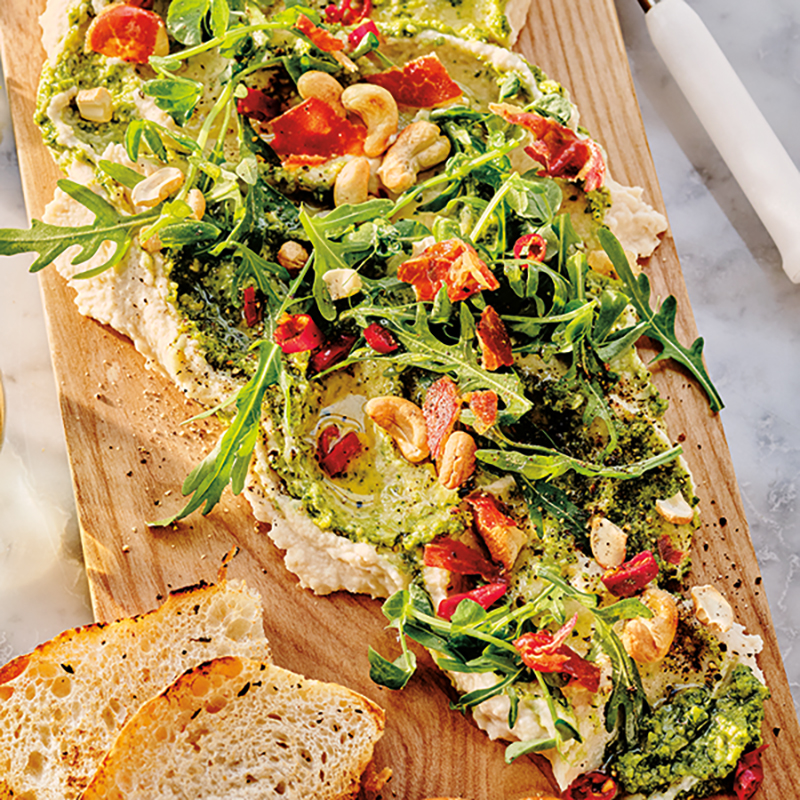 White Bean & Fresh Pea Pesto Board
A bevy of boards, both sweet and savoury, perfect for sharing.
Ingredients
Serves 8
2 x 14 oz (398 ml) canned cannellini beans, drained and rinsed
6 tbsp (90 ml) extra-virgin olive oil, divided
½ tsp (2.5 ml) kosher salt
1 tbsp (15 ml) lemon juice
1 cup (250 ml) packed basil leaves and tender stems
½ cup (125 ml) packed baby arugula, plus extra for garnish
½ cup (125 ml) packed flat leaf parsley leaves and tender stems
1 cup (250 ml) fresh green peas, or if frozen, thaw before using
½ cup (125 ml) toasted cashews, plus extra for garnish
¼ cup (60 ml) finely grated Parmesan
1 to 2 tbsp (15 to 30 ml) chopped jarred Calabrian chili peppers, or to taste
freshly ground black pepper, to taste
warm focaccia bread, for serving
Instructions
Preheat oven to 350 F (180 C).
Lay prosciutto flat in a single layer on a parchment-lined baking tray. Bake until fat turns golden and prosciutto is crisp, 12 to 15 minutes. Transfer prosciutto to a paper towel-lined plate to drain and set aside to cool to room temperature.
In bowl of a food processor fitted with the "S" blade, add drained beans, 2 tbsp (30 ml) olive oil, salt and lemon juice. Process until smooth, scraping down sides of bowl as needed. Transfer white bean spread to a bowl and set aside.
Reassemble food processor (there is no need to wash it out) and add basil, arugula, parsley, green peas, garlic, cashews, Parmesan and remaining 4 tbsp (60 ml) olive oil. Blend until fully combined and creamy, scraping down sides of bowl as needed. If mixture is difficult to blend, add a little more olive oil or water. Set pea pesto aside.
To serve, dot heaping spoonfuls of white bean spread onto cutting board. Using half the pea pesto, dot smaller spoonfuls of pesto on and around white bean spread. Drag a spoon or knife through spreads to marble as desired, creating swirls, peaks and valleys in the process. Use extra pesto as desired or keep for another use. Garnish marbled spread with arugula, chopped toasted cashews, Calabrian chilies, pea shoots and crumbled prosciutto. Sprinkle with black pepper to taste and serve alongside warm focaccia bread for dipping.
Drink Pairings