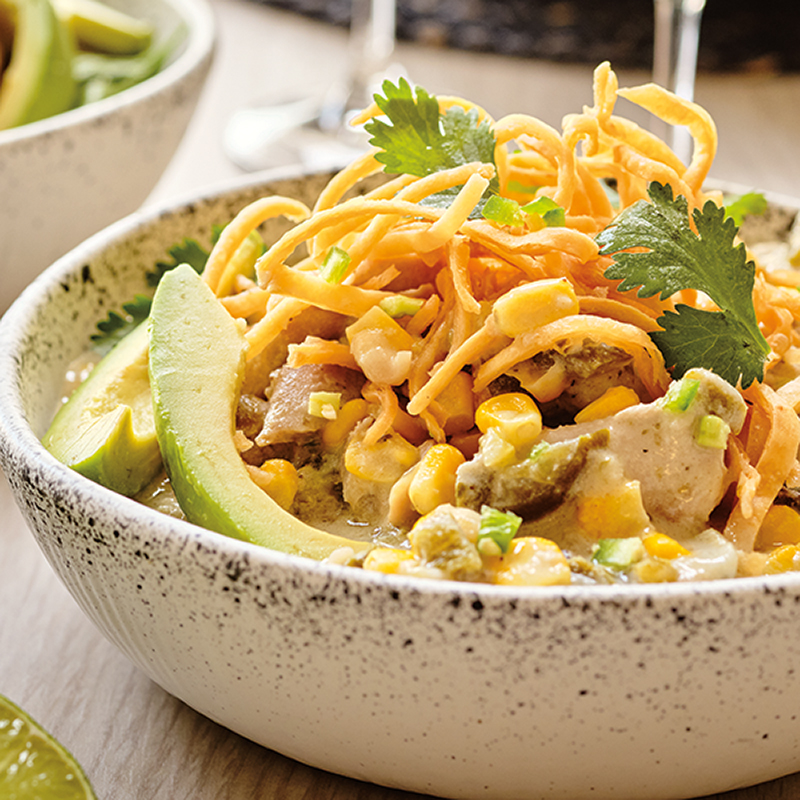 WHITE CHILI WITH CHICKEN
Relax this winter with this delicious chili recipe.
Ingredients
Serves 4 to 6
2 tbsp (30 ml) vegetable oil, plus extra for frying
1 tbsp (15 ml) garlic powder
3 tbsp (45 ml) all-purpose flour
3 lbs (1.5 kg) boneless, skinless chicken thighs
1x 14 oz (398 ml) can white beans, drained and rinsed
3 cups (750 ml) chicken stock
½ cup (125 ml) sour cream
2 x 6-in (15 cm) flour tortillas, cut into ⅛ in (0.25 cm) strips, for garnish
handful cilantro leaves, for garnish
1 jalapeño, finely chopped, for garnish
1 avocado, cut into 8 wedges, for garnish
2 limes, cut into wedges, for garnish
Instructions
In a large, heavy-bottomed saucepan over medium heat, sweat onions, garlic, oregano, cumin, garlic powder and salt in oil and butter until soft. Sprinkle in flour and stir until coated. Add chicken, beans and chicken stock. Stir well to mix, until there are no lumps. Reduce heat to low and simmer until chicken is tender, about 20 minutes.
In a small saucepan, heat 2-in (5 cm) oil over medium heat. Fry tortilla strips until crisp and light golden brown. Transfer to a paper towel-lined plate and set aside.
Remove chicken from saucepan and cool slightly. Shred chicken, then return to saucepan and stir in sour cream.
Serve chili in bowls, garnished with crispy tortilla strips, cilantro, jalapeño, avocado and lime wedges.
Drink Pairings