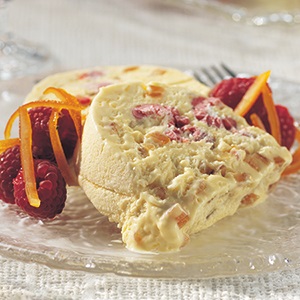 WHITE CHOCOLATE, RASPBERRY AND RUM-SOAKED CITRUS SEMIFREDDO
Ingredients
Serves 6 to 8
1 cup (250 ml) candied citrus (or Christmas cake mix, available at specialty food stores)
½ cup (125 ml) rum or brandy
8 oz (250 g) white chocolate, coarsely chopped
¾ cup (175 ml) granulated sugar
1¼ cups (300 ml) whipping cream
1 tsp (5 ml) vanilla extract or 1 vanilla bean, split lengthwise, seeds scraped
1 cup (250 ml) fresh raspberries
fresh raspberries, for garnish
¼ cup (60 ml) candied citrus, for garnish
Instructions
In a bowl, macerate candied citrus with rum or brandy. Cover and marinate at room temperature for at least 24 hours.
To make CANDIED ORANGE PEEL, remove peel in long, wide strips, including an equal thickness of pith. Cut into thin juliennes. Bring water and sugar to a boil, then reduce heat. Add the julienned peel and simmer for 30 to 45 minutes, or until peel is soft. Remove and set peel on parchment paper to dry. Reserve infused sugar syrup for other purposes, such as cocktails.
Spray a 9 x 5-in (2 L) loaf pan with oil and line with plastic wrap with a slight overhang.
Melt white chocolate in a double boiler, making sure top pan does not touch simmering water. Remove just before it is fully melted and stir until smooth. Set aside.
Place yolks and sugar in a bowl over a saucepan of simmering water, making sure bottom of bowl does not touch the water. Using an electric mixer or whisk, beat egg yolks and sugar until pale, thick and creamy, about 5 to 7 minutes. Remove bowl from heat and set aside to cool.
Combine whipping cream and vanilla extract or vanilla seeds in a chilled bowl and beat with an electric mixer until soft peaks form. Drain macerated citrus fruit well, reserving any extra liquid. Save reserved liquid to mix in with the ¼ cup (60 ml) candied orange peel reserved for garnish.
Gently fold egg yolk mixture into whipped cream, then gently add raspberries and the drained citrus. Pour into loaf pan or mould and seal with plastic wrap. Freeze for 4 to 6 hours or overnight, until well frozen.
Unmould and cut into slices. Serve on chilled serving plates and garnish with raspberries, candied orange peel or remaining marinated candied citrus.
Drink Pairings