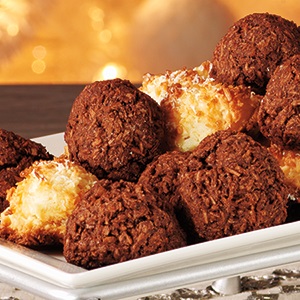 WHITE CHOCOLATE ALMOND MACAROONS
Ingredients
Serves 24 Macaroons
4 oz (125 g) white chocolate, broken into small pieces
2½ cups (625 ml) unsweetened shredded coconut
½ cup (125 ml) slivered almonds, finely chopped
¾ cup (175 ml) granulated sugar
1 oz (30 g) white chocolate
Instructions
Preheat oven to 350 F (180 C). Line a baking sheet with parchment paper.
Place white chocolate in a bowl set over a saucepan with simmering water. Stir until chocolate is almost melted. Remove bowl with chocolate from simmering water and stir until creamy. Set aside until cooled, but still loose.
In a large bowl, combine coconut, almonds, sugar and salt. Stir together to blend.
Beat egg whites with an electric mixer just until foamy. Stir into coconut mixture until blended. Add cooled chocolate and stir until mixed.
Using a large spoon, shape mixture into 1½ tbsp (22 ml) loosely shaped stacks about 1-in (2.5 cm) apart on prepared baking sheet.
Bake in preheated oven for 15 to 18 minutes, or until macaroons are firm to touch but still a little soft in centres.
Remove baking sheet from oven and grate remaining chocolate over top of macaroons. Cool on a rack. Store macaroons for up to 3 days in a tightly covered container at room temperature.
Drink Pairings