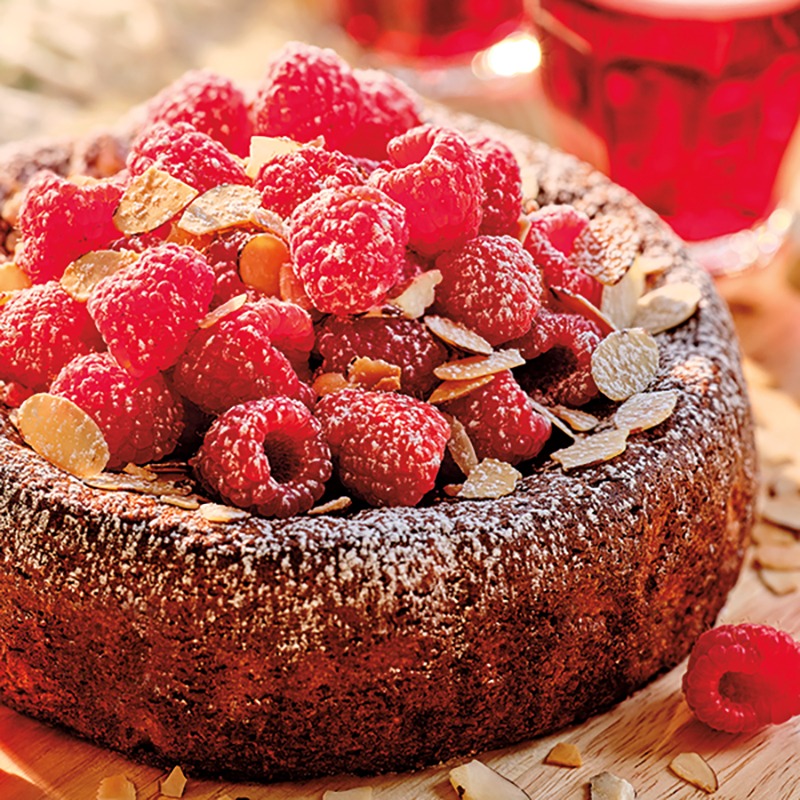 White Chocolate & Almond Torta
This menu is perfect for backyard entertaining or packing up to take on the go!
Ingredients
Serves 6 to 8
½ cup (125 ml) salted butter
¼ lb (113.5 g) best quality white chocolate, chopped
4 eggs, yolks and whites separated into 2 medium-sized bowls
⅓ cup (70 g) granulated sugar, plus extra if needed
¾ cup (175 ml) almond flour
¼ cup + 2 tbsp (90 ml) very finely ground toasted pistachios
1½ tbsp (22 ml) light rum, such as Bacardi Gold
1½ tbsp (22 ml) fresh lemon juice
1 tsp (5 ml) finely grated lemon zest
1 cup (250 ml) fresh raspberries, to serve
toasted sliced almonds, for garnish
icing sugar, for garnish (optional)
Instructions
Preheat oven to 350 F (180 C). Butter inside of a 6-in (15 cm) springform cake pan and line bottom with parchment paper. Set aside.
In a medium saucepan, combine butter and chocolate. Place over low heat and stir mixture until melted and smooth. Allow to cool slightly.
Add salt to egg whites and, with a handheld mixer, beat at medium-high speed, until stiff peaks form, about 2 minutes. Set aside. Add sugar to yolks and, using same beaters, whip mixture at medium speed until light, pale and fluffy, about 1½ minutes.
Using a rubber spatula, fold melted chocolate mixture, almond flour, pistachios, rum, lemon juice and lemon zest into the yolks. In 2 batches, fold whipped egg whites into chocolate base.
Pour mixture into prepared pan. Bake for 40 to 45 minutes or until puffed, golden brown and a skewer inserted into centre comes out clean. The cake will feel soft in centre. Cool completely.
To serve, release sides of cake pan. Slide cake off metal base and carefully remove parchment paper. Pack cake into a portable container and top with fresh raspberries and almonds. Dust with icing sugar, if desired. Cover container and set into picnic basket.
Drink Pairings