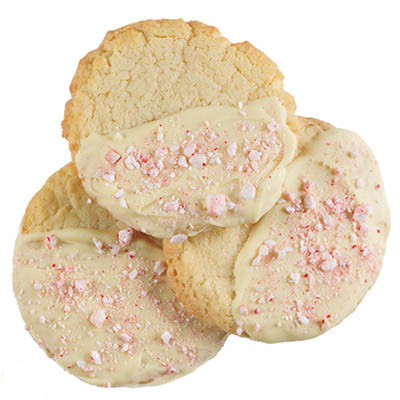 WHITE CHOCOLATE AND PEPPERMINT-DIPPED COOKIES
Ingredients
Serves about 20 to 24 cookies
1 cup (250 ml) unsalted butter, softened
1½ cups (375 ml) white sugar
1 tsp (5 ml) vanilla extract
½ tsp (2 ml) peppermint extract
2 ¼ cups (532 ml) all purpose flour
½ tsp (2 ml) baking powder
1 cup (250 ml) white chocolate
Instructions
Preheat oven to 350 F (180 C). Cream butter and sugar until light and fluffy. Add egg, vanilla and peppermint extracts. Mix until combined.
Sift flour, baking powder and salt together. Add to butter mixture and mix until combined. Scoop mixture with a tablespoon and roll into balls. Place balls on a parchment-lined cookie sheet and flatten slightly. Bake for about 5 minutes. Rotate the sheet and bake for another 5 to 8 minutes, or until lightly golden on the edges. Remove from oven and cool.
Melt white chocolate in a bowl over simmering water. Dip half of each cookie in white chocolate and sprinkle with crushed candy canes. Place each cookie on a parchment-lined cookie sheet and let sit until chocolate has set.
Drink Pairings