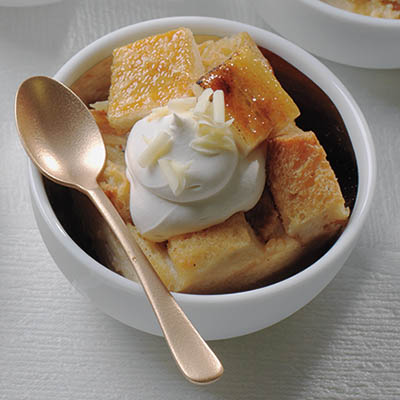 WHITE CHOCOLATE BREAD PUDDING WITH CARAMELIZED BANANAS
Ingredients
Serves 20
1 cup (250 ml) unsalted butter
1 cup (250 ml) granulated sugar
2 tsp (10 ml) vanilla extract
1 tsp (5 ml) freshly grated nutmeg
8 cups (2 L) sourdough bread, cut into ½ -in (1 cm) cubes
6 oz (180 g) white chocolate, roughly chopped
½ cup (125 ml) toasted almond slivers
2 tbsp (30 ml) dark brown sugar
1½ cups (375 ml) whipping cream, chilled
2 tbsp (30 ml) skim milk powder
½ cup (125 ml) turbinado sugar
2 large bananas, halved lengthwise and each half cut into 5 pieces
white chocolate curls, for garnish
Instructions
Preheat oven to 300 F (150 C). Grease a 9 x 13-in (23 cm x 33 cm) baking pan with butter and set aside.
In a large saucepan, bring milk, butter, sugar, vanilla, nutmeg and salt to a simmer over medium-high heat. Remove from heat and let cool for 30 minutes. In a large bowl, stir together bread, chocolate, and almonds, set aside.
Add eggs to milk mixture, and whisk until smooth. Pour custard over bread mixture and stir until evenly combined. Let sit, allowing bread to soften for 20 minutes. Pour evenly into prepared baking pan. Cover with foil, and bake until set, about 1 hour. Cool to room temperature on a wire rack before slicing into 20 squares. Bread pudding may be refrigerated in an airtight container for up to 2 days. Bring to room temperature before serving.
In a small saucepan, stir together rum and brown sugar over medium heat. Once sugar has melted, remove from heat, transfer to a bowl and refrigerate until cold.
In a chilled bowl, whip cream with skim milk powder to soft peaks. Pour in cooled sugar mixture and whip to stiff peaks. Refrigerate cream until ready to use.
Place turbinado sugar on a plate and dip the flat, cut side of each banana piece in sugar to cover completely. Place sugar-side up on a foil-lined baking sheet. Broil for about 6 minutes until sugar is melted and caramelized. Set aside for 2 minutes to harden. Place slices of bread pudding into serving containers and garnish 2 bruléed bananas, a dollop of rum cream and a sprinkle of chocolate curls.
Drink Pairings