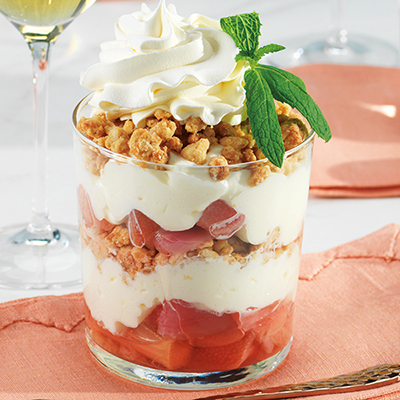 White Chocolate Mousse with Poached Rhubarb
Ingredients
Serves 4 to 6
6 oz (180 g) white chocolate, coarsely chopped
4 large egg whites, about ½ cup (125 ml)
3 tbsp (45 ml) sugar, divided
1 cup (250 ml) whipping cream
1 cup (250 ml) dry white wine
1 vanilla pod, split lengthwise, seeds scraped out
1 lb (500 g) rhubarb (5 to 6 thin stalks), ends trimmed, cut into 2-in (5 cm) pieces
½ cup (125 ml) coarsely chopped blanched almonds
½ cup (125 ml) old-fashioned oats
½ cup (125 ml) all-purpose flour
¼ cup (60 ml) light brown sugar
¼ cup (60 ml) melted butter
Instructions
Preheat oven to 350 F (180 C). Line a baking sheet with parchment paper.
Melt white chocolate in a heatproof bowl set over a saucepan of simmering water, stirring often. Once melted, remove from heat.
To make chocolate mousse, in a medium bowl, whisk egg whites to stiff peaks, then beat in 1 tbsp (15 ml) sugar. In a separate bowl, whip cream to medium-soft peaks, then slowly fold in melted chocolate until thoroughly incorporated. Fold a large spoonful of egg whites into chocolate, mix well, then fold in remaining egg whites, working quickly but carefully, to avoid deflating egg whites. Cover and refrigerate for at least 1 hour.
To poach rhubarb, in a saucepan, combine wine, 2 tbsp (30 ml) sugar, vanilla pod and seeds, star anise and ¾ cup (175 ml) water. Bring to a boil and add rhubarb. Lower heat to simmer and poach 2 to 3 minutes, until fork-tender, soft yet firm. Remove from heat and leave rhubarb to cool in liquid.
To make almond crunch, in a bowl, mix together almonds, oats, flour and light brown sugar and drizzle melted butter over top. Mix until incorporated and crumbly. Spread onto lined baking sheet. Bake for 20 minutes, stirring halfway through, until golden and crisp. Remove from oven and allow to cool.
To assemble, remove rhubarb from poaching liquid and spoon into parfait glasses. Top with a large scoop of mousse and a sprinkling of almond crunch, then repeat. Top with a dollop of whipped cream. Serve immediately.
Drink Pairings