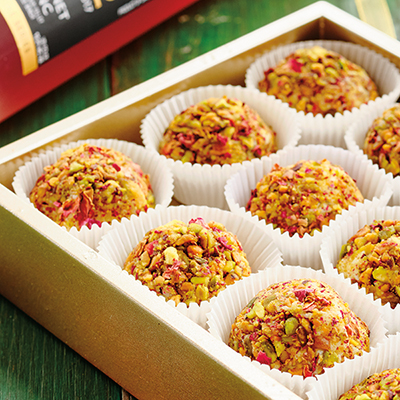 White Chocolate Truffles with Rose and Pistachio
Ingredients
Serves about 30 truffles
¾ cup (175 ml) whipping cream
¾ lb (340 g) + ⅓ lb (175 g) finely chopped high quality white chocolate, divided
6 tbsp (90 ml) unsalted butter
½ tsp (2.5 ml) best quality rose water, or to taste
1½ tsp (7 ml) Grand Marnier (optional)
2 tbsp (30 ml) finely crushed edible dried rose petals
⅔ cup (150 ml) chopped toasted pistachios
Instructions
In a medium saucepan, bring cream just to a boil. Remove from heat and immediately add ¾ lb (340 g) chocolate, butter, rose water and Grand Marnier, if using. Gently whisk until chocolate and butter are melted and mixture is completely smooth. Pour into a shallow container, cover and refrigerate until fully set, preferably overnight.
Line a baking sheet with parchment paper. Fit a piping bag with a ½-in (1.25 cm) round nozzle (or a plastic freezer bag with ½-in (1.25 cm) snipped off from one corner). Spoon chocolate mixture into bag and pipe 1-in (2.5 cm) mounds onto lined baking sheet. Place sheet in freezer for 2 hours, or until truffles are solid.
In a shallow bowl, combine crushed rose petals and pistachios and set aside.
In a small pot, bring water to a boil, then reduce to a gentle simmer over medium-low heat. Place remaining ⅓ lb (175 g) chocolate in a small heatproof bowl that will fit over pot. Place bowl over pot of simmering water and melt chocolate slowly, stirring, until smooth. Turn off heat, leaving bowl over pot so chocolate remains liquid.
To roll the truffles, this step is a bit messy, so having an extra pair of hands here can be quite helpful. Wearing thin plastic gloves, smear a little melted chocolate into your palm with a spoon. Carefully pick up a truffle (they will be quite soft) and quickly but gently roll it in a circular motion between your palms to make a thin even coating of chocolate and round out shape. Place truffle into pistachio mixture and roll it around with a fork to coat evenly. Set it on parchment-lined baking sheet; repeat with remaining truffles. Remove gloves and quickly roll each truffle between your palms once more to help pistachios adhere and to finish shaping. Place truffles back on baking sheet and return to freezer to set overnight.
Once set, store truffles in refrigerator overnight, or in freezer for up to 1 month, well covered, until ready to pack into decorative boxes for gifting. These delicate confections need to be refrigerated until serving.
Drink Pairings