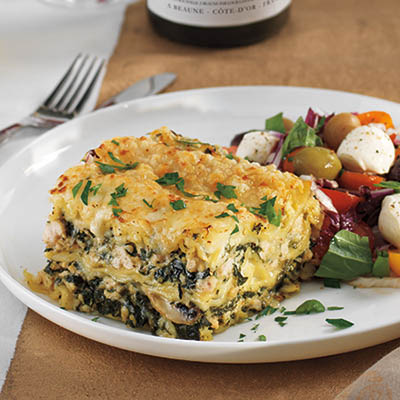 WHITE LASAGNA WITH CHERRY TOMATO AND MOZZARELLA SALAD
Ingredients
Serves 6 to 8
½ cup (125 ml) all-purpose flour
1 cup (250 ml) grated Parmesan
1 tsp (5 ml) dried oregano
1 tbsp (15 ml) finely chopped fresh rosemary
½ tsp (2 ml) each dried marjoram and thyme
1 small onion, finely chopped
1 tbsp (15 ml) minced garlic, divided
2½ lbs (1.25 kg) ground chicken or turkey
2 tbsp (30 ml) dry white wine
½ lb (250 ml) white button mushrooms, thinly sliced
1 lb (500 g) fresh spinach leaves, chopped
1 lb (500 g) whole-milk ricotta
1 large egg, lightly beaten
¼ cup (60 ml) each, coarsely chopped fresh basil and flat-leaf parsley
2 cups (500 ml) grated mozzarella
12 to 16 7 x 3 ½-in (18 x 9 cm) no-boil lasagna noodles
½ cup (125 ml) grated Parmesan
CHERRY TOMATO AND MOZZARELLA SALAD:
1 basket (2 cups) cherry tomatoes, halved
½ head radicchio, core removed, thinly sliced
½ small red onion, finely julienned
2 tbsp (30) extra-virgin olive oil, divided
16 baby bocconcini balls or 2 fresh mozzarella balls, sliced
¼ cup (60 ml) fresh basil leaves, torn
½ cup (125 ml) mixed olives
1 to 2 tbsp (15 to 30 ml) red wine vinegar
Instructions
PARMESAN BÉCHAMEL SAUCE: Melt butter in a saucepan over medium heat. Whisk in flour, stirring until well blended. Whisk in milk in a steady stream and bring to a boil, stirring occasionally, until thickened and smooth. Stir in Parmesan and season with salt and pepper. Cover and set aside.
FILLING: Mix together dried herbs, set aside. Heat butter over medium heat. Add onion and half the garlic. Sauté until almost soft, add chicken and half the herb mixture until cooked through. Remove chicken to a large bowl, keeping liquid in the pan.
Add wine to pan and bring mixture to a boil. Add mushrooms and spinach. Cook covered until spinach is wilted. Stir in remaining garlic, mixed herbs and Tabasco, season with salt and pepper. Continue to sauté, uncovered, stirring occasionally, until all liquid has evaporated. Transfer mixture to chicken and mix well to combine, reserving 1½ cups (375 ml) of the béchamel sauce. Add remaining sauce to chicken-spinach mixture and stir until well combined.
Preheat oven to 350F (180C). Butter a 13 x 9-in (3 L) baking dish. In a bowl, mix together ricotta, beaten egg, basil and parsley, season with salt and pepper. Pour half of the reserved béchamel sauce onto the bottom of the baking dish and cover with 3 lasagna noodles, making sure they do not touch each other. Spread half of the chicken-spinach mixture over pasta and sprinkle with half mozzarella. Top with another 3 noodles. Continue layering, ending with pasta. Spread remaining béchamel sauce over top. Lasagna can be made 1 day ahead and refrigerated, covered tightly.
Cover with foil and bake in centre of oven for 40 minutes. Remove foil and sprinkle top with Parmesan. Bake another 8 to 10 minutes until bubbling and golden. Garnish with chopped flat-leaf parsley.
Drink Pairings