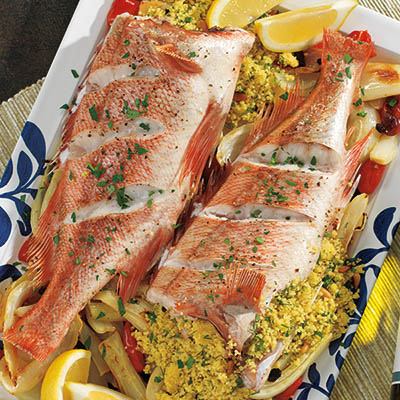 WHOLE FISH WITH FENNEL AND COUSCOUS
Ingredients
Serves 4
2 fennel bulbs, halved, cored and cut into ½-inch (1.25 cm) slices
1 large onion, halved and cut into thin wedges
3 tbsp (45 ml) extra-virgin olive oil, plus extra for drizzling
2 lemons, 1 zested, then juiced, 1 cut into wedges
1 cup (250 ml) chicken stock
sea salt and freshly ground black pepper, to taste
¼ cup (60 ml) coarsely chopped fresh dill
¼ cup (60 ml) finely chopped flat-leaf parsley
3 tbsp (45 ml) finely chopped mint
3 tbsp (30 ml) toasted pine nuts, divided
2 x 1½ lb whole snapper or sea bass, scaled and cleaned well inside and out
½ lb (250 ml) baby plum tomatoes, halved
parsley sprigs, for garnish
Instructions
Preheat oven to 400 F (200 C).
Place fennel and onion in a large roasting pan and toss with 2 tbsp (30 ml) olive oil and 1 tbsp (15 ml) lemon juice. Roast in oven for 20 minutes or until almost tender and starting to caramelize.
Meanwhile, add saffron to the chicken stock and bring to a boil. Stir in cous cous, tightly cover and remove from heat. Set aside for 10 to 15 minutes, then fluff up cous cous with a fork, and add 2 tbsp (30 ml) lemon juice, half the lemon zest, dill, flat-leaf parsley, mint, 1 tbsp (15 ml) pine nuts. Season to taste.
Rinse fish with cold water inside and out, then pat dry. Slash deeply on both sides of fish and season with salt and pepper and the remaining lemon zest. Stuff cous cous into the cavity of each fish, reserving any leftover for later.
Mix tomatoes and currants with fennel and onions. Place fish on top and roast for about 30 minutes, or until juices run from the slashes on sides of fish.
Scatter with remaining pine nuts, then serve from the roasting pan with lemon wedges and garnish with parsley sprigs.
Drink Pairings