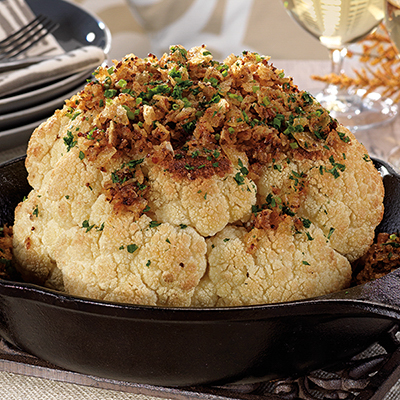 WHOLE ROASTED CAULIFLOWER WITH BROWN BUTTER CRUMBS
Ingredients
Serves 4
1 medium cauliflower, trimmed
¼ cup (60 ml) avocado oil or olive oil, divided
kosher salt and pepper, to taste
3 tbsp (45 ml) unsalted butter
¼ tsp (1 ml) red pepper chili flakes
1 tbsp (15 ml) wholegrain mustard
1 cup (250 ml) plain potato chips, crushed
2 tsp (10 ml) flat leaf parsley, chopped, for garnish
1 tsp (5 ml) finely chopped chives, for garnish
Instructions
Preheat oven to 375 F (190 C).
Cut and discard as much of the tough cauliflower stem as possible while keeping cauliflower whole and in one piece. Place in a cast iron frying pan and drizzle with 2 tbsp (30 ml) oil and season generously with salt and pepper. Roast for 25 minutes. Turn upside down, drizzle with remaining oil, return to oven and roast until a pairing knife easily pierces cauliflower, another 20 to 25 minutes.
While cauliflower roasts, in a small saucepan over medium heat, melt butter. Allow butter to cook, stirring often, until foam subsides and brown particles are visible, about 5 minutes. Immediately stir in red pepper chili flakes, garlic, mustard and potato chip crumbs. Cook, stirring often, until chips turn golden brown, about 3 minutes.
ransfer cauliflower, right side up, onto a serving plate and spoon warm crumb mixture overtop. Sprinkle with parsley and chives and serve while warm.
Drink Pairings