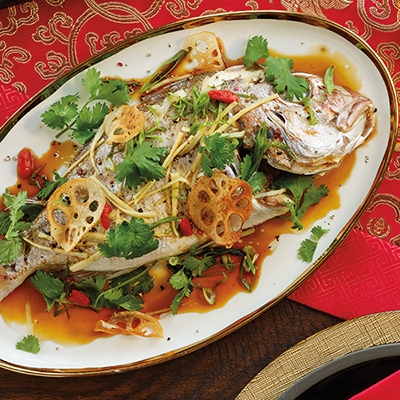 Ingredients
Serves 4 to 6
1 lotus root, for garnish
2 lb (1 kg) whole white fish (sea bass, rock fish or snapper), scaled and gutted
1-in (2.5 cm) knob ginger, peeled and julienned
¼ cup (60 ml) vegetable oil
4 green onions, julienned
1 handful cilantro leaves
dried goji berries, for garnish
steamed jasmine rice, for serving
Instructions
Peel lotus root and, carefully using a mandolin or vegetable peeler, slice or peel ten ⅛-in (0.25 cm) slices. Rinse in cold water, then dry thoroughly with paper towel.
In a small saucepan, deep fry lotus in 1-in (2.5 cm) vegetable oil at 325 F (170 C) until golden brown, flipping halfway through, about 5 minutes total. Remove to paper towel to drain.
Prepare wok or wide pot for steaming: fill with 2-in (5 cm) water and place a steaming trivet inside. Place a heatproof plate (a glass pie plate works well) large enough to fit fish on the trivet and bring water to a boil over high heat.
Stuff fish with half the ginger. Place fish on plate, put remaining ginger on top of fish and cover wok. Steam for 10 to 15 minutes, or until fish is cooked through and flakes easily with a fork.
Just before fish is finished cooking, heat vegetable oil over medium-high heat until hot and shimmering.
In a small bowl, combine soy sauce, water, sesame oil and sugar.
Remove plate from wok and transfer fish to a serving platter. Place green onions on top of fish.
Carefully pour hot oil over fish, followed by soy sauce mixture. Garnish with cilantro, goji berries and lotus root chips. Serve with steamed jasmine rice.
Drink Pairings