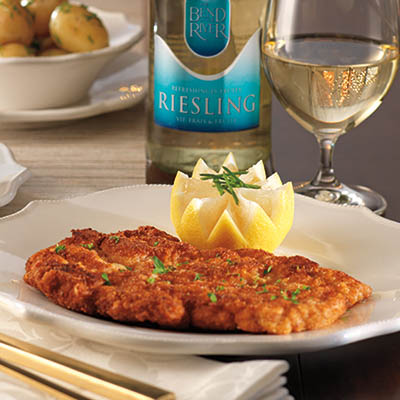 WIENER SCHNITZEL WITH BRAISED RED CABBAGE
Ingredients
Serves 4
½ tsp (2 ml) freshly ground pepper
¼ tsp (1 ml) ground nutmeg
1 cup (250 ml) all-purpose flour
2 cups (500 ml) dry bread crumbs
4 veal (or pork) cutlets, about 5 oz (140 g ) each, pounded very thin
vegetable or canola oil, for frying
lemon wedges, for garnish
1 tbsp (15 ml) vegetable or canola oil
½ head red cabbage, finely shredded
3 tbsp (45 ml) cider vinegar
1 tbsp (15 ml) red wine vinegar
¼ tsp (1 ml) ground cloves
Instructions
Mix spices with flour and place in a shallow dish. Beat eggs and water and place in a second dish. Place bread crumbs in a third shallow dish.
Pat cutlets dry. Dredge each cutlet in flour, then egg wash and finally in bread crumbs, coating the cutlets well. Transfer coated cutlets to a platter.
In a straight-sided skillet, heat ¼ cup (60 ml) vegetable oil over medium-high heat. Carefully transfer the coated cutlets to the hot oil to fry. Cook about 2 minutes each side, or until golden brown and puffy and crisp. Drain cutlets on a paper towel-lined baking sheet.
Serve on warm plates with braised red cabbage and garnish with lemon wedges.
To make BRAISED RED CABBAGE: Heat oil in a large saucepan. Add cabbage and sauté until coated. Stir in remaining ingredients. Simmer, covered, 20 minutes or longer, stirring occasionally until tender.
Drink Pairings