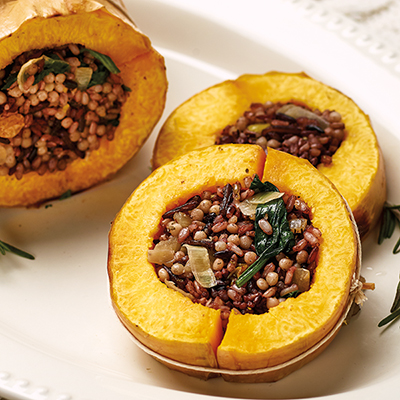 WILD RICE AND ISRAELI COUS COUS-STUFFED BUTTERNUT SQUASH
Ingredients
Serves 6
1 tbsp (15 ml) extra-virgin olive oil
1 small yellow onion, diced
2 sprigs thyme, de-stemmed
2 cups (500 ml) packed spinach leaves
2 cups (500 ml) wild rice cooked in vegetable stock
1 cup (250 ml) cooked Israeli cous cous,
½ cup (125 ml) golden raisins
salt and pepper, to taste
Instructions
Preheat oven to 350 F (175 C).
Cut squash in half, lengthwise. Place face down on a parchment-lined baking sheet. Bake for 30 minutes until slightly fork-tender. Using a spoon, scoop out seeds, then hollow out a well for stuffing, leaving ¾-in (2 cm) of squash as a border. Set aside.
In a medium skillet, over medium heat, heat oil. Sautée onions, garlic and thyme. Once onions are translucent, add spinach and cook until wilted. Remove from heat and allow to cool.
In a large mixing bowl, add cooked rice, cous cous, cooled spinach mixture and raisins. Stir to combine. Season with salt and pepper. Firmly pack each squash half with stuffing. Flip one half onto the other and use twine to fasten together tightly.
Return to oven and bake for another 25 minutes. Use a toothpick to check if squash is tender all the way through. If not, bake for another 10 to 15 minutes, until tender.
Serve on a platter, whole or cut into 1-in (2.5 cm) rounds.
Drink Pairings