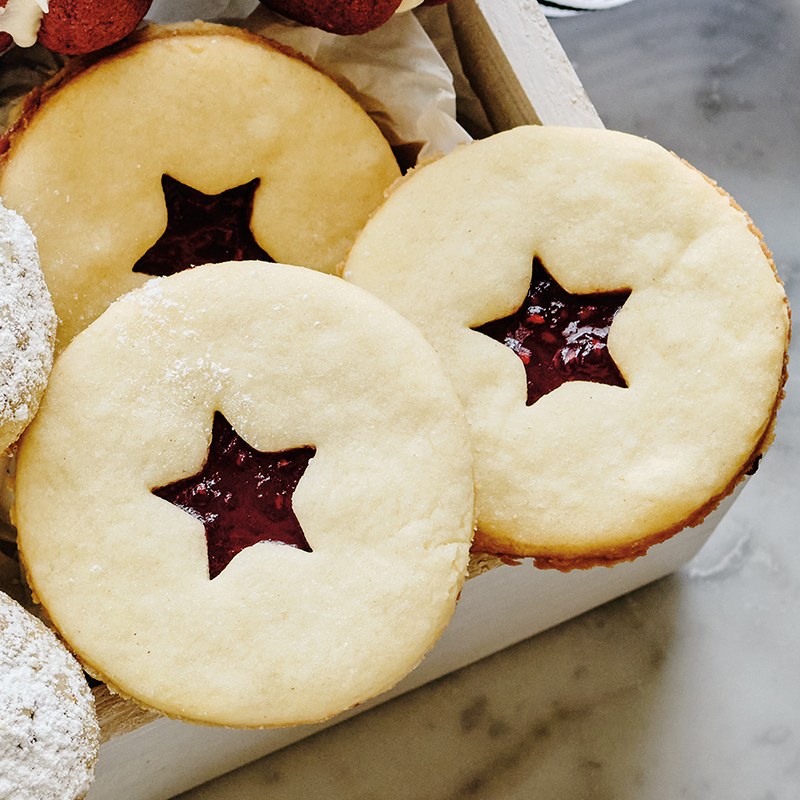 WINDOW SUGAR COOKIES
How about a Do-It-Yourself gift box? Fill your gift boxes with some homemade delicious treats. It's a gift you can make, pack, pair and share!
Ingredients
Serves 12 cookies
¾ cup (175 ml) unsalted butter
1½ cups (375 ml) granulated sugar
1 tsp (5 ml) vanilla extract
1½ tsp (7 ml) baking powder
¾ cup (175 ml) thick, good quality raspberry jam
2 tsp (10 ml) minced ginger
Instructions
In a large mixing bowl, use a hand mixer to beat butter and sugar until pale and fluffy, about 3 to 5 minutes. Add eggs and vanilla and mix to combine.
Using a large sieve, sift flour, salt and baking powder into butter mixture. Mix again to combine. Using hands, form dough into a large disk and wrap tightly in plastic wrap. Refrigerate for at least 3 hours, or overnight.
Preheat oven to 375 F (190 C). Line 2 cookie sheets with parchment.
Remove dough from refrigerator and let sit for 3 minutes. Cut dough in half and roll out one half to form a large circle about ¼-in (0.5 cm) thick. Cut 12 circles. Repeat this step with other piece of dough to make 24 circles in total. Using a 1-in (2.5 cm) wide cookie cutter in a star shape cut out a star shape in the middle of 12 cookies.
Bake for 8 to 10 minutes. Transfer to a wire cooling rack and allow to cool completely.
In a small mixing bowl, combine jam and ginger. Using a spoon, scoop roughly 2 tsp (10 ml) jam onto each circle-shaped cookie. Place the star cut-out cookie on top to create a sandwich. Store in an airtight container for up to 4 days.
Drink Pairings