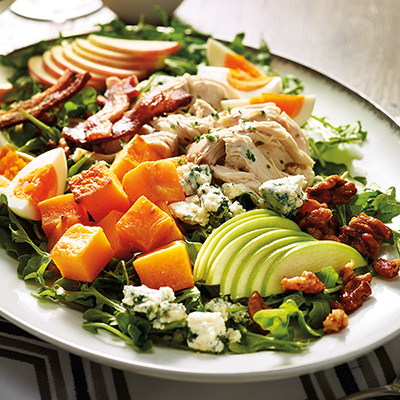 Ingredients
Serves 4
1 small butternut squash, peeled, seeded, cut into 1-in (2.5 cm) chunks
2 tbsp (30 ml) extra-virgin olive oil
salt and pepper, to taste
¼ cup (60 ml) + 2 tbsp (30 ml) Stilton (or favourite blue cheese)
½ cup (125 ml) thick Greek-style yogurt
½ tsp (2.5 ml) onion powder
½ tsp (2.5 ml) garlic powder
5 oz (140 g) container baby arugula
2 cups (500 ml) shredded roasted chicken
1 apple, cored, thinly sliced (a crisp variety is best)
2 medium-boiled eggs, shelled, cut into quarters
1 handful candied walnuts
4 strips bacon, crisply cooked and cut into 2 to 3 pieces each
2 tsp (10 ml) chopped chives, to garnish
Instructions
Preheat oven to 375 F (190 C).
Toss squash with olive oil, salt and pepper and roast on a parchment-lined baking sheet for 20 to 30 minutes, or until squash is tender and lightly browned. Once cooked, remove from oven and cool slightly.
To make dressing, mix ¼ cup (60 ml) Stilton, yogurt, lemon juice, zest, onion and garlic powders and salt. Adjust seasoning to taste.
To assemble, place arugula on a large platter. Arrange overtop, squash, chicken, apples, eggs, candied walnuts, bacon and remaining 2 tbsp (30 ml) Stilton. Sprinkle with 2 tsp (10 ml) chives. Serve dressing on side.
Drink Pairings