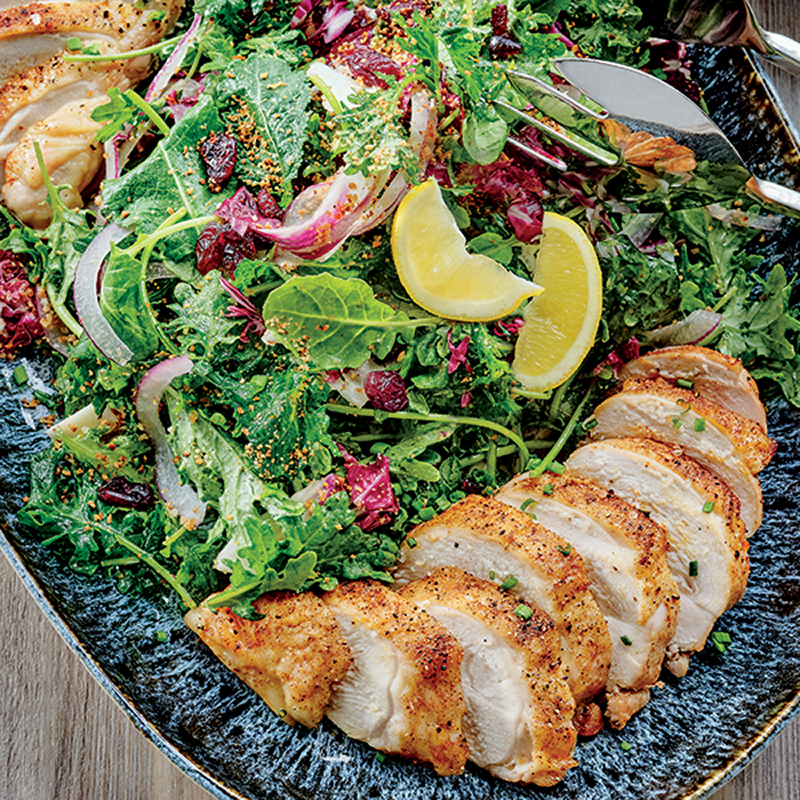 Winter Greens & Chicken Salad with Buttermilk Dressing
Ingredients
Serves 2
2 chicken breasts, boneless, skin-on*
salt and pepper, to taste
½ tsp (2.5 ml) garlic powder
½ tsp (2.5 ml) onion powder
2 tbsp (30 ml) olive oil, divided
1 tsp (5 ml) red wine vinegar
2 tbsp (30 ml) chopped chives
1 small head radicchio, thinly sliced
¼ cup (60 ml) thinly sliced red onion
¼ cup (60 ml) dried cranberries
¼ cup (60 ml) toasted bread crumbs
Instructions
Preheat oven to 350 F (180 C) and line a baking sheet with parchment paper. Place chicken skin side up on lined baking sheet. Season with salt, pepper, paprika, garlic powder and onion powder. Drizzle with 1 tbsp (15 ml) olive oil and bake for 15 minutes, or until a meat thermometer inserted into thickest part of chicken reads 165 F (74 C). Remove from oven and set aside to rest.
In a small bowl, mix together buttermilk, mayonnaise, vinegar, shallot, garlic and chives. Season with salt and pepper.
In a large bowl, toss together kale and radicchio. Add remaining 1 tbsp (15 ml) olive oil and gently massage into leaves to break down the fibers. Add buttermilk dressing to taste and toss to coat. Any leftover dressing will keep in an airtight container in refrigerator for up to 1 week. Add red onion, cranberries and bread crumbs. Slice chicken and serve alongside salad.
Drink Pairings