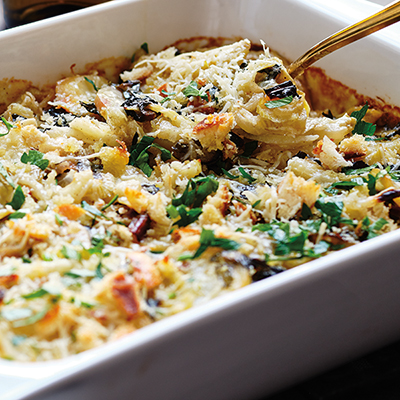 Winter Vegetables au Gratin
Ingredients
Serves 6
1 small fennel bulb, cored and sliced
6 thyme sprigs, leaves only
2 large russet potatoes, peeled, cut into ¼-in (0.5 cm) rounds
2 cups (500 ml) chopped chard
1¼ cups (310 ml) whipping cream
½ cup (125 ml) vegetable stock
¼ tsp (1 ml) ground nutmeg
1 cup (250 ml) + ½ cup (125 ml) grated Parmigiano-Reggiano, divided
salt and white pepper, to taste
Instructions
Preheat oven to 375 F (190 C).
In a medium skillet, heat oil over medium heat. Sauté onion until soft, about 5 minutes. Add butter, garlic and fennel. Sauté for another 5 minutes, then add thyme. Remove from heat and let cool.
In a large bowl, combine potatoes, chard, cream, stock, nutmeg and 1 cup (250 ml) Parmesan. Add fennel mixture and gently toss to coat. Season with salt and pepper.
Layer vegetables in an 8 x 11-in (20 x 28 cm) casserole dish, ensuring potatoes are lying flat. Pour remaining liquid over and sprinkle with remaining ½ cup (125 ml) Parmesan and bread crumbs.
Cover with foil and bake for 35 to 45 minutes, until potatoes are soft. Remove foil and broil on high for 3 to 5 minutes, or until bread crumbs are golden brown.
Drink Pairings