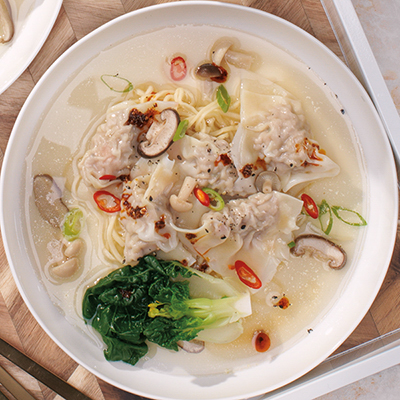 Ingredients
Serves 6
½ lb (250 g) sustainable prawns, peeled and roughly chopped
2 tsp (10 ml) chopped ginger
1 tsp (5 ml) chopped garlic
¼ cup (60 ml) finely sliced green onions, divided
2 tbsp (30 ml) cornstarch
3 tbsp (45 ml) soy sauce, divided
½ tsp (2.5 ml) sesame oil
2 tsp (10 ml) oyster sauce
2 tsp (10 ml) Chinese cooking wine
1 × 1 lb (454 g) package wonton wrappers
8 cups (2 L) chicken stock
6 shiitake mushrooms, stems removed and sliced
1 package honshimeji mushrooms, trimmed (can substitute for mushrooms of choice)
1 × 1 lb (454 g) package wonton noodles
fresh chilis, for garnish (optional)
Instructions
To make filling, in a large mixing bowl, add pork, prawns, chopped ginger, garlic, 2 tbsp (30 ml) green onions, cornstarch, 2 tbsp (30 ml) soy sauce, sesame oil, sugar, pepper, oyster sauce and Chinese cooking wine and mix thoroughly.
To make simple wontons, put 1 to 2 tsp (5 to 10 ml) filling in middle of a wonton wrapper, wet edges of wrapper with finger and fold edges diagonally together to enclose dumpling. Continue with remainder of filling and wrappers. Wontons can be frozen at this point. Freeze in a single layer on a baking tray, then place in an airtight container or bag. Can keep up to 3 months in freezer.
To make soup, bring chicken stock to a simmer along with 2 slices of ginger and remaining 1 tbsp (15 ml) soy sauce. Add mushrooms and simmer for 15 minutes, taste and add salt, if needed. Add bok choy to soup 3 minutes before ready to serve.
Meanwhile, bring a large saucepan of salted water to a boil and cook noodles according to package directions. Drain, reserving water, and set noodles aside while cooking wontons.
Bring reserved water back to a boil and drop wontons in 1 at a time, stirring so that they don't stick to the bottom. Bring water back to a boil and cook for about 5 to 8 minutes, until wontons float and are cooked all the way through and no longer pink inside.
Divide noodles between 6 bowls, top with cooked wontons. Then ladle soup, bok choy and mushrooms over it. Garnish with remaining sliced green onions, fresh chilis and chili oil, if using.
Drink Pairings