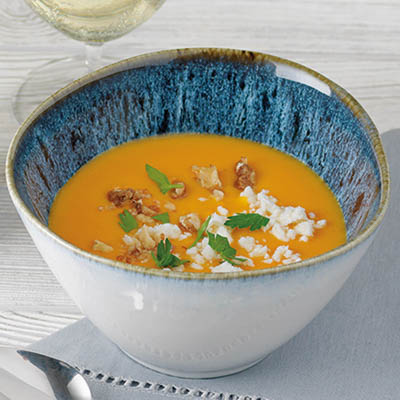 Ingredients
Serves 4 to 6
2 medium yams, skins on, halved
1 small onion, peeled and chopped
1 garlic clove, peeled and chopped
½ tsp (2 ml) ginger, peeled and chopped
2 tbsp (30 ml) extra-virgin olive oil
1 tsp (5 ml) freshly ground pepper
1 tsp (5 ml) ground cumin
¼ tsp (1 ml) ground cinnamon
4 cups (1 L) chicken or vegetable stock
¼ cup (60 ml) whipping cream
¼ cup (60 ml) crumbled feta cheese, for garnish
2 tbsp (30 ml) walnuts, toasted and roughly chopped, for garnish
1 tbsp (15 ml) parsley leaves, roughly chopped, for garnish
Instructions
Preheat oven to 350 F (180 C).
Place yams, cut side down, on a parchment-lined baking sheet and bake for 45 minute to an hour, or until yams are soft. They should be caramelized on cut side.
In a large heavy-bottomed pot, sweat onion, garlic and ginger in olive oil over medium heat until onions are slightly caramelized, about 10 to 15 minutes. Add salt, pepper, cumin, cayenne and cinnamon. Cook for 5 more minutes, or until spices are fragrant.
Peel and discard yam skins and add flesh to onions. Add stock and simmer for 10 minutes, just for flavours to combine. Carefully pour soup into a blender and cover with a lid. Carefully pulse soup until it starts to purée, blend on purée until smooth. Alternativly, you can use a stick blender.
Wash pot and return soup to pot. Bring it back to a simmer. Add lemon juice, zest and cream. Taste and adjust seasoning if necessary. Divide soup into bowls and garnish with feta cheese, nuts and chopped parsley.
Drink Pairings