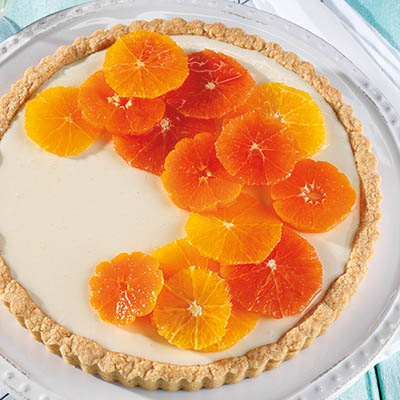 YOGURT TART WITH FRESH CITRUS SALAD
Ingredients
Serves 10
1¼ cups (310 ml) all-purpose flour
½ cup (125 ml) slivered blanched almonds
¾ cup (175 ml) granulated sugar, divided
½ cup (125 ml) cold unsalted butter, cut into large chunks
1½ tsp (7 ml) vanilla extract, divided
6 tbsp + 1 tsp (90 + 5 ml) cold water, divided
½ cup (125 ml) granulated sugar
2 green cardamom pods, crushed
½ cup (125 ml) orange juice
1 tbsp (15 ml) powdered gelatin
¼ cup (60 ml) light coloured honey, such as wildflower
1½ cups (375 ml) natural Greek yogurt
Instructions
To make crust: in a food processor, blend flour, almonds, ¼ cup (60 ml) sugar and salt until nuts are finely ground. Add butter and pulse until mixture resembles coarse meal. Pulse in ½ tsp (2 ml) vanilla extract and 1 tbsp + 1 tsp (20 ml) water to form moist clumps. Press evenly into a 9-in (23 cm) tart pan with a removable base. Freeze for 30 minutes.
While crust is freezing, preheat oven to 375 F (190 C).
Bake crust until golden brown, about 20 minutes. Press any puffed up sections back into tin. Set aside to cool completely on a wire rack.
While crust is cooling prepare spiced syrup. In a small saucepan over medium-high heat, stir together remaining ½ cup (125 ml) sugar, 5 tbsp (75 ml) water, star anise, cinnamon stick and crushed cardamom pods. Simmer until all the sugar has dissolved. Remove saucepan from heat and cool completely at room temperature.
Once crust is cooled, prepare filling. In a small saucepan, stir together orange juice and gelatin. Set aside for 5 minutes. Place gelatin mixture over medium heat and stir in honey. Once gelatin is completely dissolved transfer to a bowl and whisk in yogurt and remaining 1 tsp (5 ml) vanilla extract. Pour filling into completely cooled crust and refrigerate for at least 1 hour, up to overnight.
With a knife, cut away peel and pith from oranges before cutting into slices. Just before serving, arrange orange slices over set yogurt filling and brush with spiced syrup.
Drink Pairings