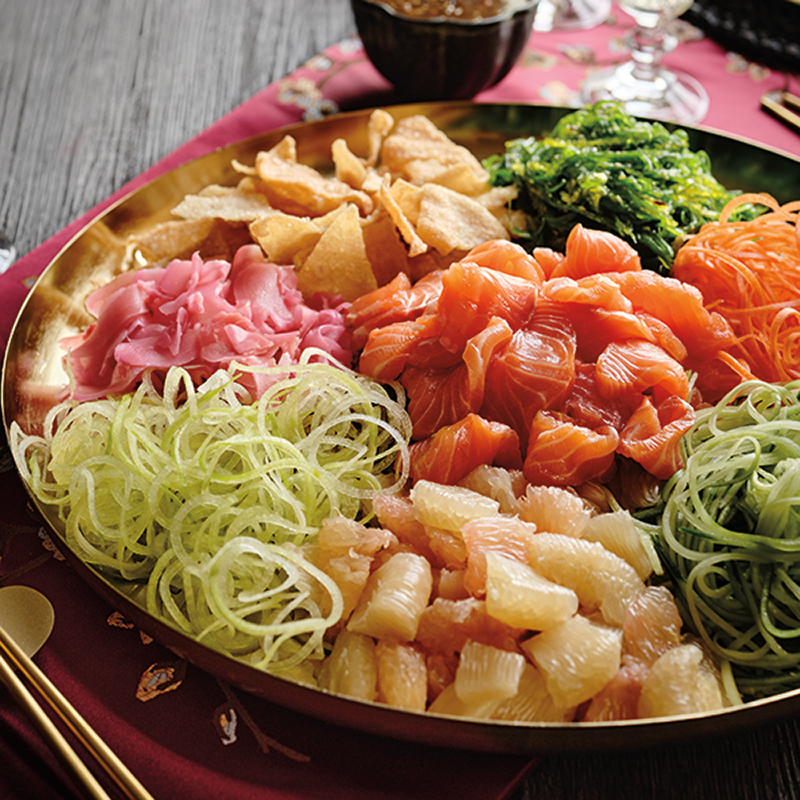 YU SHENG SALAD (SINGAPORE, MALAYSIA, INDONESIA)
A multicultural potluck to celebrate Lunar New Year.
Ingredients
Serves 4 to 6
2 tbsp (30 ml) kosher salt plus extra for seasoning wontons
1 tsp (5 ml) freshly ground black pepper
1 lb (500 g) salmon filets, pin bones removed
½ cup (125 ml) pickled ginger
1 cucumber, julienned on a mandoline
½ large daikon, peeled and spiraled on a spiralizer, roughly cut to shorten strands
1 large carrot, peeled and spiraled on a spiralizer, roughly cut to shorten strands
1 cup (250 ml) seaweed salad
1 large pomelo or grapefruit, peeled and segments broken into pieces
1 tbsp (15 ml) sesame oil
½ cup (125 ml) tamarind paste
¼ cup (60 ml) rice vinegar
1 tsp (5 ml) roasted sesame seeds, crushed
15 wonton wrappers, cut into quarters
Instructions
Combine 2 tbsp (30 ml) salt, sugar and pepper and sprinkle mixture evenly on all sides of salmon. Place salmon on a wire rack and refrigerate for 30 minutes to cure.
Meanwhile, in a pan, fry wontons in 2-in (5 cm) vegetable oil heated to 375 F (190 C). Drain on paper towel and season with salt.
Rinse salt mixture from salmon and pat dry with paper towel. Slice salmon into ¾-in (2 cm) thick slices.
Mix sesame oil, tamarind paste, rice vinegar and sesame seeds together. Transfer to a small serving bowl.
Place salmon in middle of a large serving bowl or platter. Arrange ginger, cucumber, daikon, carrot, seaweed, pomelo and fried wontons. Serve with sauce on side and invite guests to toss salad with chopsticks.
Drink Pairings