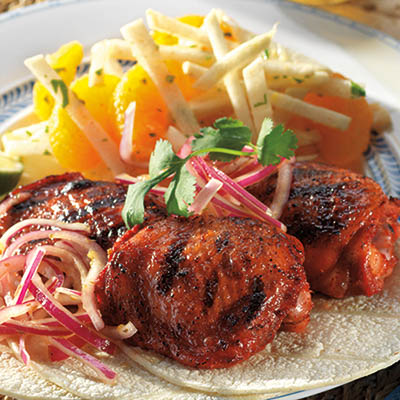 YUCATÁN-STYLE CHICKEN WITH PICKLED RED ONION SALSA AND JICAMA SALAD
Ingredients
Serves 4 to 6
1 cup (250 ml) fresh orange juice
⅓ cup (75 ml) fresh lime juice
¼ cup (60 ml) fresh grapefruit juice
1 to 2 chipotle canned chilies, including sauce
4 oz (125 g) Achiote Paste
¼ cup (60 ml) coarsely chopped fresh cilantro
salt and freshly ground black pepper, to taste
8 large chicken thighs, skin on, bone in
1 red onion, finely sliced
½ cup (125 ml) fresh orange juice
2 tbsp (30 ml) red wine vinegar
1 tbsp (15 ml) dried oregano
1 small jicama, peeled and cut into 3 x ¼-in (8 x 0.5 cm) julienne pieces
2 naval oranges, peeled and segmented
2 mandarin oranges, peeled and segmented
½ tsp to 1 tsp (2 to 5 ml) chili powder, or to taste
chopped cilantro, to taste
Instructions
To prepare CHICKEN: In a blender combine citrus juices, garlic, chipotle chilies and Achiote Paste and process until smooth, about 2 minutes. Mix in chopped cilantro and add salt and pepper to taste. Pour into a baking dish. Add chicken and mix until well covered. Cover with plastic wrap and refrigerate, turning over occasionally to marinate, up to 2 hours or overnight.
Make SALSA at least an hour before cooking chicken. In a nonreactive mixing bowl, mix salsa ingredients together. Toss well. Cover and refrigerate for at least 1 hour, until onions soften.
Heat barbecue to medium-high. Remove chicken from marinade and place on lightly greased grill. Alternatively, place chicken on a lightly oiled, foil-lined baking sheet. Grill until cooked, about 20 minutes and internal temperature registers 165 F (75 C) on a meat thermometer. Using tongs, turn chicken a couple of times while grilling.
While chicken is cooking, prepare JICAMA SALAD: In a mixing bowl, toss together jicama, oranges, lime juice, salt and chili powder. Adjust seasonings to taste. Fold in cilantro and garnish with a few extra cilantro sprigs.
To serve, remove chicken from grill. Serve with Pickled Red Onion Salsa and Jicama Salad.
Drink Pairings