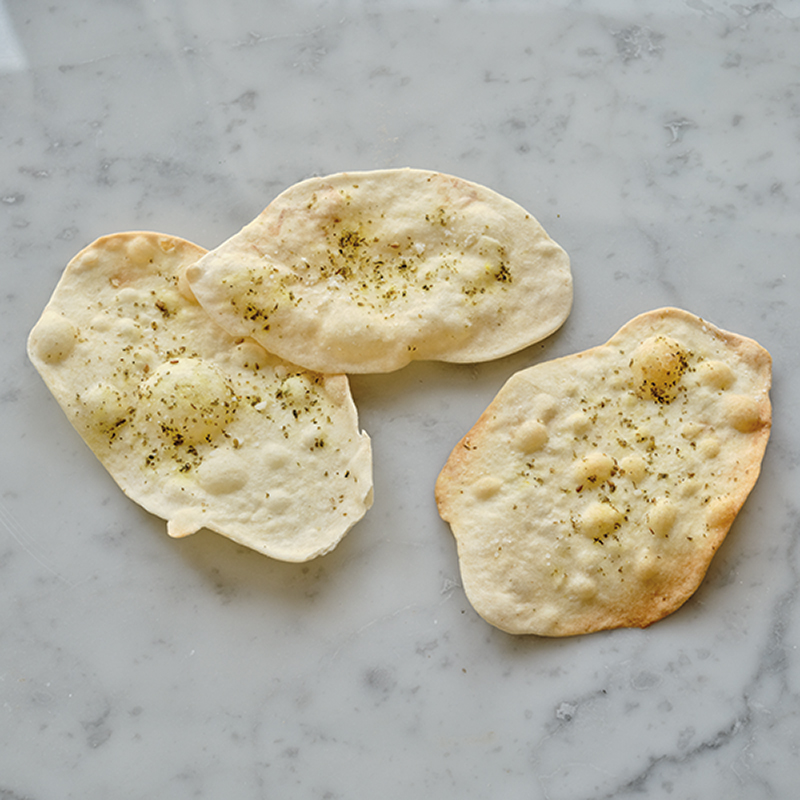 ZA'ATAR CRACKERS
How about a Do-It-Yourself gift box? Fill your gift boxes with some homemade delicious treats. It's a gift you can make, pack, pair and share!
Ingredients
Serves 12 - 15 cocktails
1 tsp (5 ml) baking powder
5 tsp + 2 tbsp (25 ml + 30 ml) olive oil, divided
1 tbsp (30 ml) za'atar spice
Instructions
In a large mixing bowl, mix flour, baking powder and salt.
Add water and 5 tsp (25 ml) oil. Using a spatula, mix to form a shaggy dough. With floured hands, bring dough together to form a ball. If dough is too dry, add a few more drops of water. Gently knead dough in bowl for 2 minutes. Wrap dough in plastic wrap and refrigerate for 1 hour.
Preheat oven to 400 F (200 C). Line 2 baking sheets with parchment paper.
Remove dough from refrigerator. Cut a small piece from dough, about the size of a walnut. On a clean, floured surface, use a rolling pin to roll the ball as thin as possible into an oval shape. (You should be able to see your hand through it.) Place oval on baking sheet and repeat this step with remaining balls of dough, you should have 12 to 15 balls.
Place remaining 2 tbsp (30 ml) of oil into a small ramekin. Using a pastry brush, brush oil onto each oval, then sprinkle with za'atar spice and Maldon salt.
Bake until crackers are bubbly and golden brown, about 10 to 12 minutes. Remove and allow to cool. Store in an airtight container for up to 3 days.
Drink Pairings