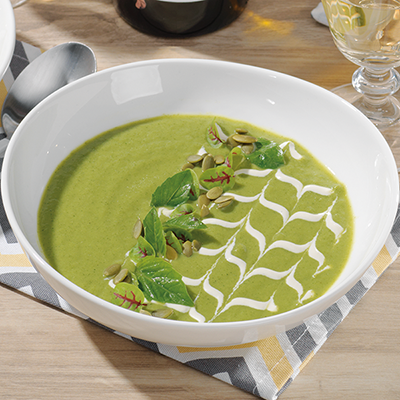 Ingredients
Serves 4
1 cup (250 ml) raw cashews, soaked in hot water for 1 hour and drained
4 cups (250 ml + 750 ml) water, divided
½ tsp (2.5 ml) lemon zest
4 tbsp (60 ml) lemon juice, divided
1 tsp (5 ml) Dijon mustard
½ tsp (2.5 ml) salt, plus extra, to taste
2 tbsp (30 ml) grapeseed oil
1 large leek, trimmed and finely diced
3 celery stalks, trimmed and finely diced
1½ lbs (750 g) zucchini, trimmed and cut into half moon shapes
2 cups (500 ml) Thai basil leaves, roughly chopped, divided, plus extra for garnish
2 cups (500 ml) vegetable stock
Microgreens or edible flowers, for garnish toasted pumpkin seeds, for garnish
Instructions
In a blender, combine cashews, 1 cup (250 ml) water, lemon zest, 2 tbsp (30 ml) lemon juice, mustard and salt until smooth. Transfer to a bowl and refrigerate until ready to use.
In a large saucepan over medium heat, heat oil. Add leek, celery and a pinch of salt. Cook, stirring occasionally, until vegetables have softened but have not browned, about 5 minutes. Stir in garlic and cook until fragrant, about 1 minute. Stir in zucchini and cook for 1 minute before adding half the basil, vegetable stock and 3 cups (750 ml) water. Bring soup to a simmer and cook, stirring occasionally, until zucchini is tender yet still bright green, about 8 minutes. Stir in remaining basil and remove saucepan from heat.
Working in batches, transfer hot soup to a blender and combine until smooth. Blend in 2 tbsp (30 ml) lemon juice and season to taste. Divide among serving bowls and garnish with cashew cream, microgreens, toasted pumpkin seeds and extra basil. Serve immediately.
Drink Pairings