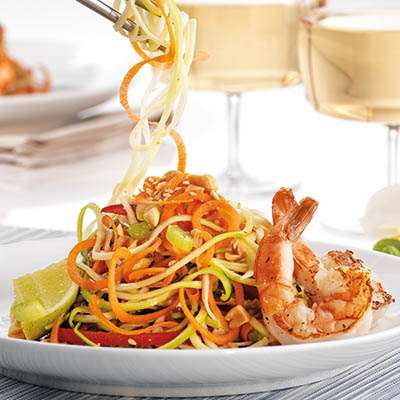 ZUCCHINI CARROT PAD THAI WITH GARLIC PRAWNS
Ingredients
Serves 2 to 3
1 red bell pepper, thinly sliced lengthwise into matchsticks
10 prawns, deveined and shelled
salt and pepper, to taste
½ cup (125 ml) chopped cilantro, for garnish
⅓ cup (75 ml) chopped peanuts, for garnish
3 green onions, sliced, for garnish
2 tbsp (30 ml) sesame oil
¼ cup (60 ml) peanut butter
1 tbsp (15 ml) grated ginger
1 tsp (5 ml) sriracha (optional)
Instructions
With a vegetable spiralizer, spiral cut zucchini and carrots using the Angel Hair blade, to look like Angel Hair pasta noodles. Add red pepper, zucchini and carrots to a bowl, set aside.
In a frying pan over medium heat, add garlic and olive oil. Season prawns with salt and pepper and add to pan. Cook for 2 to 3 minutes on each side until no longer translucent.
Toss vegetables with Peanut Sauce and move to serving dishes. Garnish with cilantro, peanuts, green onions and top with prawns.
To make PEANUT SAUCE: In a food processor, blend all ingredients until smooth. Set aside. Can store refrigerated for up to 1 week. Makes about ¾ cup (180 ml).
Drink Pairings