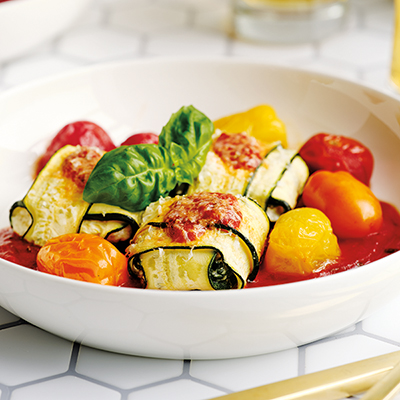 Ingredients
Serves 4
3 to 4 medium zucchinis, ends trimmed (to make 32 "noodles")
3 cups (750 ml) fresh spinach leaves, packed
1 x 15 to 16 oz (450 to 500 g) tub ricotta
1 cup + ¼ cup (250 ml + 60 ml) grated parmesan, divided
½ tsp (2.5 ml) red pepper chili flakes
¼ tsp (1 ml) ground nutmeg
salt and pepper, to taste
1 x 22 oz (650 ml) jar marinara sauce
2 cups (500 ml) cherry tomatoes
¼ cup (60 ml) chopped basil leaves
Instructions
Using a mandoline set to 1/8 in (3 mm to 3.5 mm), slice zucchini lengthways to make even strips: these will be your "noodles". Lay flat on a paper towel-lined surface and sprinkle with a generous pinch of salt to draw out moisture and prevent sogginess. Set aside.
In a medium skillet over medium heat, heat oil. Sauté garlic and onion until translucent, about 5 to 8 minutes. Add spinach and cook until wilted down and moisture has cooked off a bit, about 2 minutes. Set aside and allow to cool completely.
In a large mixing bowl, combine cooled spinach with ricotta, 1 cup (250 ml) parmesan, chili flakes and nutmeg. Season with salt and pepper to taste.
Spread all but ½ cup (125 ml) of marinara sauce in bottom of a large casserole dish and set aside. Reserve ½ cup (125 ml) sauce for later.
Pat zucchini dry with paper towel. To assemble ravioli, place 1 zucchini strip down on work surface, then another on top, perpendicular to the first, creating an "X". Place 1 heaping tablespoon (just over 15 ml) of ricotta mixture in middle of "X". Fold bottom strip up over ricotta, matching ends together, then repeat with top strip. Then take the parcel and flip it over. Place in casserole dish on top of marinara sauce and repeat with remaining zucchini "noodles".
Spoon remaining ½ cup (125 ml) marinara on top of parcels. Scatter cherry tomatoes around ravioli and bake for roughly 40 to 50 minutes, or until fork-tender and bubbling.
Serve warm, topped with chopped basil and remaining ¼ cup (60 ml) parmesan.
Drink Pairings