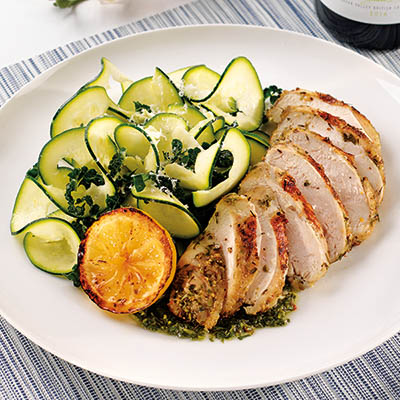 ZUCCHINI RIBBON AND KALE CAESAR SALAD WITH CHIMICHURRI CHICKEN
Ingredients
Serves 2
1 large bunch (8 to 12 stalks) of Lacinato or Dino Kale
2 chicken breasts, skin on (optional)
¼ cup (60 ml) grated Parmesan
2 cups (500 ml) chopped parsley
2 cups (500 ml) chopped cilantro
½ tbsp (7 ml) red pepper chili flakes
¼ cup (60 ml) red wine vinegar
2 large or 4 small green onions (stems included)
½ cup (125 ml) neutral oil (e.g. grapeseed, avocado, vegetable oil)
1 tbsp (15 ml) Dijon mustard
salt and pepper, to taste
2 tbsp (30 ml) mayonnaise
¼ cup (60 ml) lemon juice
Instructions
With a vegetable spiralizer, spiral cut zucchini using the flat blade to produce wide pappardelle-shaped vegetable noodles.
Remove stalks from kale, thinly slice horizontally to create thin ribbons of kale. Add kale and zucchini noodles to a bowl and coat with olive oil, lemon juice and salt and pepper. Let rest for 10 minutes while making Chimichurri Sauce, recipe follows.
Marinate chicken breasts in half the Chimichurri Sauce and set aside for 10 to 15 minutes.
Preheat barbecue or grill to mediumhigh, sear chicken on either side for 6 to 8 minutes, depending on thickness. Once chicken feels firm but not hard, remove from grill and let rest for 5 minutes. Alternatively, preheat oven to 350 F (180 C) and bake for about 20 minutes. Once chicken is cooked and rested, cut into ¼-in (0.5 cm) slices.
Toss kale and zucchini in Caesar Dressing to taste, add Parmesan and serve alongside sliced chicken and top with remaining Chimichurri Sauce.
To make CHIMICHURRI SAUCE: In a food processor, pulse all ingredients, except for oil until finely chopped. Add oil and pulse 2 more times, careful not to emulsify oil and vinegar. Set aside until ready to use. Can store refrigerated for up to 2 weeks. Makes 1 cup (250 ml).
To make CAESAR DRESSING: In a food processor, add all ingredients and blend on high for about 1 minute until smooth. Makes ½ cup (125 ml).
Drink Pairings