Every year, customers return around 93 million empty beverage alcohol containers to BC Liquor Stores for recycling. Thank you for doing your part to reduce our impact on the environment.
DEPOSIT REFUND
Customers returning empty containers will be paid a full deposit refund at the following rates set by the BC Recycling Regulation:
| | |
| --- | --- |
| Container Size | Deposit Repaid |
| Dealcoholized beer or wine container up to and including 1 Litre | 10¢ |
| Alcohol container up to and including 1 Litre | 10¢ |
| Alcohol container greater than 1 Litre | 10¢ |
RETURNING EMPTY CONTAINERS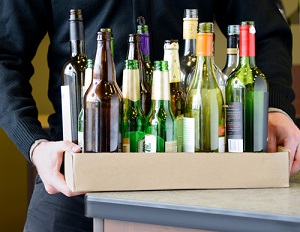 Returned containers must not contain liquid, must be clean, and caps must be removed.

To receive a refund, BC Liquor Store staff must be able to determine if the product was sold in BC. So, for example:
aluminum cans cannot be crushed beyond recognition;
bottles must have their original label; and
bag-in-box wine containers must be whole (cardboard exterior and the interior, plastic bladder)

Due to space limitations, some BC Liquor Stores may accept only a limited number of empty beverage alcohol containers. In Metro Vancouver, for example, most stores accept a maximum of 24 containers per person per day. 
To return an unlimited number of containers, customers are encouraged to visit a Return-It depot in their community.

DID YOU KNOW...
BC is one of the only places in North America that were returned glass bottles are recycled back into new glass bottles?
Watch the video here to find out more.
Every year, BC Liquor Stores recycle thousands of tonnes of cardboard and shrink wrap used to transport liquor products from our distribution centres to our retail stores. 

To further reduce the impact on the environment, BC Liquor Stores encourage customers to use a reusable bag to carry out their purchases. Reusable bags can be purchased in BC Liquor Stores. Otherwise, a plastic or paper carry-out bag will be provided.

PAPER BAGS
Our paper bags made from 97% post-consumer recycled content. They are 100% compostable and 100% recyclable through curbside collection programs.

PLASTIC BAGS
Our plastic bags are made in BC and contain 20% recycled plastic bottles. The bags are 100% recyclable. BC Liquor Stores contribute financially to a BC-wide plastic bag recycling program to ensure that plastic bags given to customers can be returned free-of-charge to designated return locations across the province.

For More Information
For More Information on BC Liquor Stores' environmental goals and performance, see our annual Carbon Neutral Action Reports or contact green@bcldb.com.