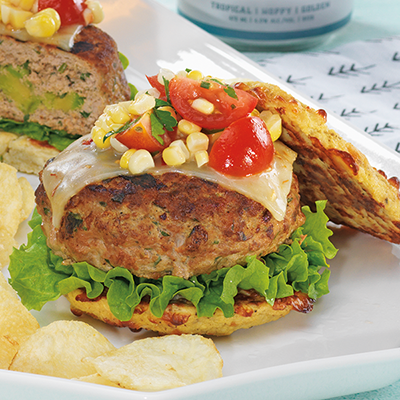 AVOCADO-STUFFED TURKEY BURGER WITH CAULIFLOWER FLATBREAD BUN
Ingredients
Serves 4
Grapeseed oil, for greasing and frying
6 cups (1.5 L) shredded cauliflower
2 large eggs, lightly beaten
1 cup (250 ml) shredded mozzarella cheese
2 tsp (10 ml) salt, divided
1 tsp (5 ml) pepper, divided
1 tsp (5 ml) dried oregano
2 cups (500 ml) corn kernels
2 cups (500 ml) cherry tomatoes, quartered
¼ cup (60 ml) cilantro leaves, chopped
1 tbsp (15 ml) finely chopped chives
2 tbsp + 1 tsp (30 ml + 5 ml) lime juice, divided
1 lb (500 g) ground turkey
1 tbsp (15 ml) Dijon mustard
½ tsp (2.5 ml) ground cumin
½ tsp (2.5 ml) chili powder
1 tbsp (15 ml) finely chopped parsley leaves
4 slices pepper jack cheese
Instructions
Preheat oven to 450 F (230 C). Line a baking tray with parchment paper and liberally grease with grapeseed oil. Set aside.
Place cauliflower in a bowl and microwave on high until softened, about 8 to 10 minutes. Place microwaved cauliflower in a clean kitchen towel and, over the sink, squeeze out as much moisture as possible before placing cauliflower in a large mixing bowl. Add 2 lightly beaten eggs, mozzarella, 1 tsp (5 ml) salt, ½ tsp (2.5 ml) pepper and oregano. Mix until well incorporated and shape into eight 3-in (8 cm) rounds and a ½-in (1 cm) thick on prepared baking tray. Bake until patties are golden brown, about 16 minutes. Let cool for 10 minutes on baking tray before carefully peeling off of parchment paper. Set aside.
In a large bowl, stir together corn, tomatoes, cilantro, chives, 2 tbsp (30 ml) lime juice and 1 tsp (5 ml) salt. Set aside to marinate for at least 30 minutes at room temperature.
Thoroughly mix together ground turkey, 1 large egg, garlic, ½ tsp (2.5 ml) pepper, mustard, cumin, chili powder and parsley. Divide mixture in half and form 4 small patties with 1 half of turkey mixture. Make a shallow well in center of each patty with thumb.
In a small bowl, roughly mash avocado with 1 tsp (5 ml) lime juice, leave some large chunks of avocado. Divide avocado mash among wells in turkey patties. With remaining turkey mixture form another 4 small patties and lay each over avocado, pressing edges together to seal.
Grease grill or a grill pan with oil and preheat to medium-high heat. Grill patties, flipping once or twice, until cooked through, about 6 to 8 minutes per side. Top each patty with a slice of pepper jack cheese for last minute or so of cooking.
To serve, place a piece of lettuce on top of 4 cauliflower flatbreads. Top with a turkey patty and a generous scoop of salsa. Top each burger with another cauliflower bun and serve.
Drink Pairings