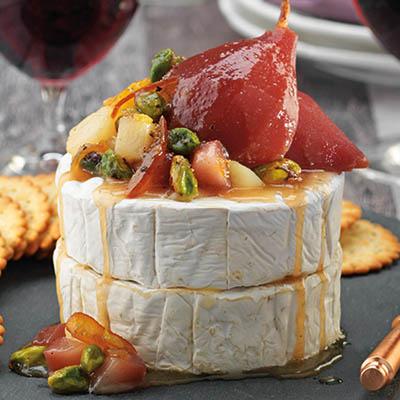 BAKED CAMEMBERT WITH POACHED PEARS, PISTACHIOS AND ORANGE
Ingredients
Serves 6
2 x 7 oz (200 g) wheels of Camembert cheese
1 tbsp (15 ml) unsalted butter
1 ripe Bartlett pear, peeled and chopped
3 tbsp (45 ml) orange juice
¼ cup (60 ml) roughly chopped pistachios, plus extra for garnish
1 tbsp (15 ml) orange marmalade
freshly ground pepper, to taste
2 cups (500 ml) Pinot Noir wine
3 green cardamom pods, crus
½ cup (125 ml) clover honey
Instructions
Preheat oven to 375 F (190 C). Lightly grease a small baking dish or pie plate, preferably one that can also be used for serving.
Place wheels of Camembert on one side and cut a shallow 2-in (5 cm) wide hole in centre of each. Set aside.
Using a paring knife, peel orange, removing skin and white pith. Cut orange flesh into segments, then cut each segment into 3 pieces. Set aside.
Chop one Spiced Poached Pear and set aside. Cut remaining spiced pear into quarters or halves and reserve.
Heat butter in a large frying pan over medium-high heat. Add chopped Bartlett pear and sauté for 2 minutes. Add orange juice, orange segments and chopped spiced pear. Allow to cook for 1 minute. Stir in pistachios, honey and marmalade. Cook, gently stirring often, until liquid has reduced and is syrupy. Remove from heat and stir in a good pinch of pepper.
Place one wheel of Camembert into prepared baking dish, cut side up. Fill hole with as much pear mixture as will comfortably fit. Top with other wheel of Camembert, placing cut side down on top of fruit. Bake until Camembert is warm and softened, about 10 to 15 minutes. Top baked wheels with remaining pear mixture and decorate with quartered or halved spiced pear. Serve immediately with assorted crackers.
To make SPICED POACHED PEARS: In a small saucepan, stir together wine, water, cinnamon sticks, cardamom pods, peppercorns and honey over medium heat. Bring mixture to a slow simmer.
Meanwhile, peel pears and, with a melon baller, remove cores, working from bottom and carving into centre of pears. Place pears in simmering wine mixture. To keep pears submerged, cover with a piece of parchment paper, so that it touches poaching liquid. The time needed for pears to poach will depend on their ripeness. Pears are done when they are fork-tender, but still hold together.
When cooked to desired doneness, transfer pears to a bowl and pour poaching liquid over. Let cool until just warm and serve. Pears may be prepared up to 5 days in advance and refrigerated in their poaching liquid.
Drink Pairings