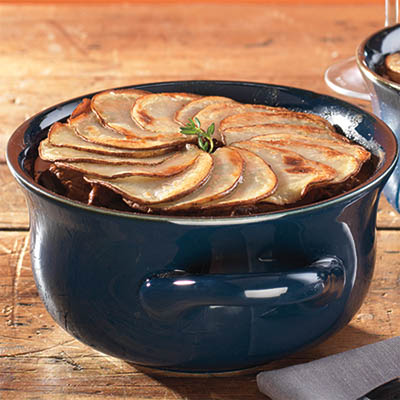 BEEF AND MUSHROOM POT PIE
Ingredients
Serves 4
¼ cup (60 ml) olive oil, divided, plus extra for oiling dishes
2 lbs (1 kg) stewing beef, cut into 1-in (2 cm) cubes
salt and freshly ground black pepper, to taste
4 slices bacon or pancetta, diced
4 cups (1 L) mixed mushrooms (portobello,
white button, crimini, shiitake, oyster, trumpet or chanterelles), trimmed and cut to same size
2 tbsp (30 ml) tomato paste
¼ cup (60 ml) all-purpose flour
1 cup (250 ml) beef stock
2 to 3 medium unpeeled russet potatoes, scrubbed
¼ cup (60 ml) melted butter, for brushing
Instructions
Preheat oven to 325 F (160 C). Oil 4 x 2 cup (500 ml) individual casserole dishes or a 12 cup (3 L) baking dish.
In a large, heavy-bottomed saucepan, heat 2 tbsp (30 ml) oil over medium-high heat. Pat beef cubes dry with paper toweling and season with salt and pepper. Brown beef in batches, transferring to a bowl as they are done using a slotted spoon. Add bacon or pancetta to pan and cook until crisp. Remove with a slotted spoon and add to beef.
Drain fat from pan and add remaining 2 tbsp (30 ml) oil. Add onions and mushrooms and sauté , stirring often, until liquid is evaporated, about 10 to 12 minutes. Stir in tomato paste and sauté, stirring occasionally, for 2 minutes. Sprinkle with flour and continue to sauté for 1 minute. Whisk in beef stock and red wine until smooth. Add fresh thyme.
Return beef mixture and any accumulated juices to pan and gently fold in. Divide mixture among prepared casserole dishes. Cover each dish with foil and bake until beef is tender, about 1 hour. Remove dishes from oven and set aside.
Increase oven temperature to 400 F (200 C).
To make topping, thinly slice unpeeled potatoes using a very sharp knife. Arrange in a circle over each dish overlapping potatoes, leaving a small opening in the middle to allow steam to escape. Brush with melted butter, season with salt and pepper and bake for 30 minutes, or until filling is bubbling and potato crust is golden.
Drink Pairings