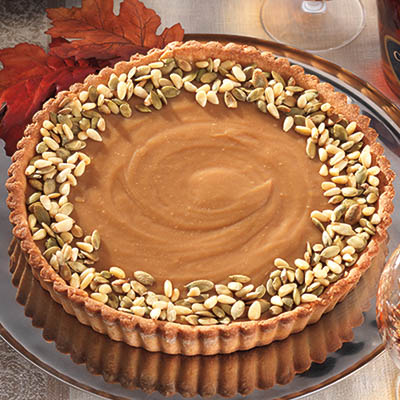 BOURBON CARAMEL PUMPKIN TART
Ingredients
Serves 10
1½ cups (375 ml) all-purpose flour
½ cup (125 ml) fine cornmeal
½ cup (125 ml) icing sugar
½ cup (125 ml) cold unsalted butter, diced, plus extra for greasing
½ cup (125 ml) light brown sugar
2 tbsp (30 ml) unsalted butter
1 cup (250 ml) whipping cream
4 oz (125 g) plain cream cheese
⅓ cup (75 ml) light brown sugar
¾ cup (175 ml) pumpkin purée
1 tsp (5 ml) ground cinnamon
¼ tsp (1 ml) ground cardamom
¼ tsp (1 ml) ground nutmeg
½ tsp (2 ml) ground ginger
½ cup (125 ml) half and half cream
¼ cup (60 ml) toasted, salted pumpkin seeds
2 tbsp (30 ml) toasted pine nuts
sweetened whipped cream (optional)
Instructions
To make CRUST: In a food processor pulse together flour, cornmeal, icing sugar and salt. Scatter 1⁄2 cup (125 ml) cubed butter over dry ingredients and pulse until butter is coarsely incorporated, 3 or 4 pulses. Add egg and continue to pulse until dough clumps together. Turn dough out onto a work surface and lightly knead just to incorporating ingredients. Gather into a ball, wrap with plastic wrap or place in a tightly sealed plastic bag and refrigerate at least 2 hours.
Lightly grease a high-sided 9-in (23cm) tart pan with removable bottom and set aside. Roll out chilled dough on lightly floured piece of parchment paper into a 13-in (33 cm) round, lifting and turning dough occasionally to ensure it doesn't stick. Turn dough into prepared tart pan and press into pan. Trim overhang, seal any cracks with extra trimmed dough and pierce crust all over with fork. Freeze for at least 1 hour.
Preheat oven to 375 F (190 C). Press a piece of tin foil tightly against tart shell and bake in middle of oven for 20 minutes. Carefully remove foil. If shell puffs, press down gently with back of a spoon. Bake another 10 minutes until shell is firm and edges are tinged golden brown. Transfer to a wire rack and let cool, 30 minutes. Keep oven on.
Make BOURBON CARAMEL: In a medium- sized saucepan, stir together brown sugar, water, butter and salt over medium heat. Stir continuously until sugar melts and mixture begins to darken, 5 minutes. Slowly whisk in whipping cream, taking care as mixture will bubble up. Simmer, whisking occasionally, until smooth and very thick, 10 to 15 minutes. Whisk in bourbon and bring back to a simmer, whisking occasionally, until very thick again, another 4 to 5 minutes. Remove from heat and transfer to a heatproof bowl. Pour 1⁄3 cup (75 ml) caramel over bottom of cooled crust, setting remaining caramel aside at room temperature. Spread into an even layer over crust. Refrigerate for 15 minutes, allowing caramel to set.
To make FILLING: In a stand mixer fitted with paddle attachment, beat together cream cheese and 1⁄3 cup (75 ml) brown sugar on medium speed until light and fluffy, 2 minutes. Add egg and egg yolk, beating until well combined. Add pumpkin purée, cinnamon, cardamom, nutmeg, ginger, salt and cream. Mix until thoroughly combined. Place tart pan containing cooled crust on a baking sheet and slowly pour filling over caramel layer. Bake until filling has puffed slightly, 30 to 35 minutes. Place tart pan on a wire rack and allow tart to cool completely.
In a small bowl stir together pumpkin seeds and pine nuts.
Pour remaining caramel over pumpkin custard and spread evenly with a spatula. If caramel is too stiff, warm gently in a saucepan over medium-low or microwave in 10 seconds bursts, stirring between each, until pourable. Sprinkle pumpkin seed mix around edge of tart and refrigerate until caramel is firm, a minimum of 4 hours, up to 24 hours.
When ready to serve, unmould tart from pan and transfer to a serving platter. Cut and serve chilled.
Drink Pairings