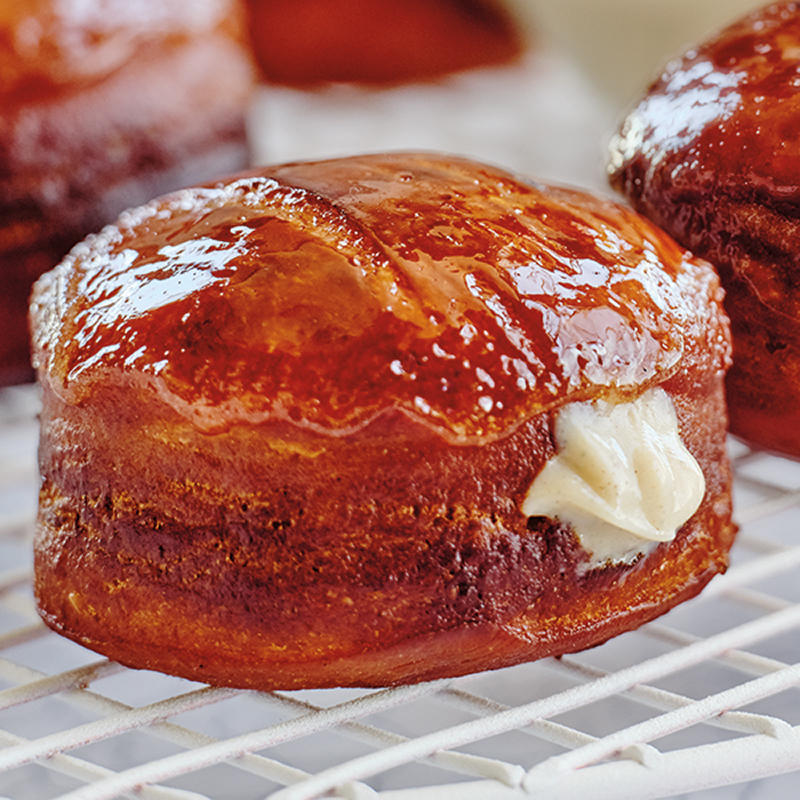 Brûlée Pumpkin Doughnuts
While we all know and love a good crème brûlée, there is so much more that we can do with the simple brûlée cooking technique. Pumpkin pie in a doughnut, this brûléed pumpkin doughnut is just what you need to get you into the fall spirit.
Ingredients
Serves Makes about 18 doughnuts
SPICED VANILLA CREAM FILLING:
2 cups (500 ml) whole milk
1 vanilla bean, split and seeds scraped out
½ cup (125 ml) granulated sugar
3 tbsp (45 ml) cornstarch
½ tsp (2 ml) ground cinnamon
½ tsp (2 ml) ground ginger
¼ tsp (1 ml) ground nutmeg
2 tbsp (30 ml) unsalted butter, cut into ½-in (1.25 cm) cubes
1 cup (250 ml) whole milk
2 cups (500 ml) granulated sugar, divided
1 tbsp (15 ml) active dry yeast
⅓ cup (75 ml) unsalted butter, melted and cooled
1 tsp (5 ml) fine sea salt
1 cup (250 ml) canned pumpkin purée
1 tsp (5 ml) ground cinnamon
½ tsp (2.5 ml) ground nutmeg
1 tsp (5 ml) vanilla extract
5½ cups (690 g) all-purpose flour
¼ cup (60 ml) clover honey
Instructions
To make Spiced Vanilla Cream Filling, in a medium saucepan, combine milk with scraped vanilla bean along with its seeds. Bring just to a simmer over medium heat while stirring constantly. Remove saucepan from heat, cover and set aside for 30 minutes.
In a large bowl, set up an ice bath by partially filling it with a combination of cold water and ice. Set aside.
In a medium heatproof bowl, whisk together sugar, cornstarch, salt, cinnamon, ginger and nutmeg until well combined. Add egg yolks and whisk until mixture is pale yellow, thick and fluffy, about 1 minute. Uncover infused milk and remove vanilla bean, rinsing and setting aside for another use, if desired. While whisking continuously, slowly pour milk into egg mixture in a thin stream until all has been added. Return mixture to same saucepan and place over medium heat. Whisk constantly until pastry cream begins to thicken, about 5 minutes. Once it starts to thicken, continue to whisk, pausing every few seconds to check for bubbles, about 1 minute. Once bubbles start to appear, whisk continuously for 1 minute. Remove saucepan from heat and whisk in butter until thoroughly combined. Strain pastry cream through a fine mesh sieve set over a clean medium, heatproof bowl. Immediately place a piece of buttered parchment paper directly on surface of pastry cream to prevent a skin from forming. Transfer bowl to prepared ice bath for 30 minutes. Remove bowl from ice bath and refrigerate pastry cream for 2 hours.
While pastry cream chills, make doughnut dough. In a small saucepan, over medium heat, warm milk until lukewarm, about 3 minutes. Do not overheat milk, as it can kill the yeast. Pour milk into a large bowl and whisk in 1 cup (250 ml) sugar. Sprinkle yeast over milk mixture and let it stand until frothy, about 5 minutes. Once frothy, whisk in melted butter, egg, salt, pumpkin purée, cinnamon, nutmeg and vanilla until well combined.
Begin adding flour, about 1 cup (250 ml) at a time, mixing well with a wooden spoon after each addition. Once a dough ball forms, invert dough onto a lightly floured work surface. Knead dough for 4 to 5 minutes, dusting occasionally with flour as needed, until dough is super soft and slightly sticky. Place dough in a clean mixing bowl, cover with a tea towel and set aside, allowing to proof until doubled in size, about 1 to 1½ hours.
Once dough has proofed, pour at least 1-in (2.5 cm) of oil into a large heavy-bottomed stockpot or large cast iron pan and attach a thermometer. Warm oil over medium-high heat until it reaches 350 F (180 C).
Meanwhile, knead proofed dough lightly a couple of times then use a rolling pin to roll out to ½-in (1.25 cm) thickness on a lightly floured work surface. Using a 3-in (8 cm) circle cutter, cut out as many circles as possible, then collect scraps, knead and repeat rolling and cutting one more time.
Working in batches of 4 or 5 at a time, carefully place doughnuts into preheated oil and fry, turning halfway through cooking time, until deep golden brown on both sides, about 3 to 4 minutes per side. Once done, place doughnuts on a paper towel-lined baking tray to absorb excess oil. Repeat with remaining doughnut dough. Let doughnuts cool completely to room temperature.
When ready to serve remove pastry cream from refrigerator and whisk until smooth. Transfer to a piping bag fitted with a star tip. Using a small knife, make a cut from side into centre of each doughnut, creating a pocket. Place piping tip in opening of pocket and fill each doughnut with cream. Repeat with all doughnuts.
Place remaining 1 cup (250 ml) sugar onto a plate. Brush tops of each doughnut with a thin layer of honey before pressing into sugar. Brûlée each doughnut top using a home brûlée torch, taking care to move flame evenly back and forth over sugar, just above doughnut, until it has caramelized. Allow doughnut to sit for 5 minutes before serving.
Drink Pairings