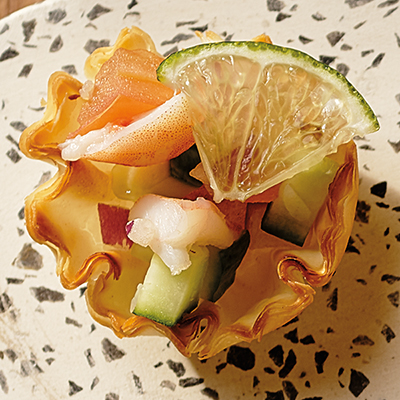 Ingredients
Serves 8
1 cup (250 ml) prawns, peeled and deveined
½ small orange, zest only
¼ cup (60 ml) diced cucumber
1 tbsp (15 ml) diced jalapeño
¼ cup (60 ml) diced red onion
1 tbsp (15 ml) minced cilantro leaves
salt and pepper, to taste
15 to 20 mini phyllo shells or vol au vents
Instructions
Prepare an ice bath. In a small saucepan, bring 1-in (2.5 cm) of water to boil. Poach prawns for 30 seconds or until pink, then immediately place in ice bath to stop cooking. Roughly chop each prawn into 3 or 4 small pieces.
In a medium bowl, combine lime zest and juice, orange zest and prawns. Allow to sit for 15 minutes, stirring occasionally. Mix in tomato, avocado, cucumber, jalapeño, onion and cilantro. Season with salt and pepper.
Place a heaping spoonful of ceviche into each phyllo shell and serve immediately.
Drink Pairings