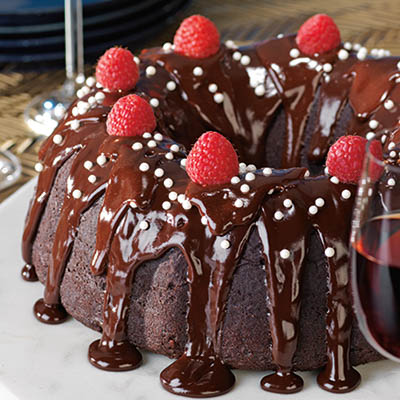 CHOCOLATE AND BEET BUNDT CAKE
Ingredients
Serves 6 to 8
½ cup (125 ml) unsweetened cocoa, plus extra for dusting Bundt pan
2 cups (500 ml) all-purpose flour
1 tsp (5 ml) ground cinnamon
2 tsp (10 ml) baking powder
½ cup (125 ml) + ¼ cup (60 ml) butter, softened, divided
1¼ cup (310 ml) packed dark brown sugar
3 large eggs, at room temperature
1 cup (250 g) semi-sweet chocolate chips or chocolate, coarsely chopped
1 tbsp (15 ml) vanilla extract
1 tbsp (15 ml) instant espresso powder or 1½ tbsp (22 ml) ground instant coffee (optional)
2 cups (500 ml) beet purée, about 6 to 8 small beets, roasted, peeled and processed until smooth
½ cup (125 ml) full fat sour cream or whole-milk yogurt
DARK CHOCOLATE GANACHE 1 cup (250 g) bitter or semi-sweet chocolate, coarsely chopped
2 tbsp (30 ml) unsalted butter
½ cup (125 ml) whipping cream
Instructions
Grease a Bundt pan and dust with cocoa powder, tapping out excess. Preheat oven to 375 F (190 C).
In a large mixing bowl, sift together cocoa, flour, cinnamon, baking powder, baking soda and salt. Stir until evenly distributed. Set aside.
With an electric mixer, whip together ½ cup (125 ml) softened butter and sugar until light and fluffy. Add eggs one at a time and beat 3 to 4 minutes until doubled in volume.
While egg/sugar mixture is beating, heat chocolate with remaining ¼ cup (60 ml) butter in microwave, 20 seconds at a time, stirring each time, until melted. Stir until smooth and blended. Set aside.
Add vanilla to eggs, followed by espresso, melted chocolate mixture, beet purée and sour cream. Mix until well blended and combined.
Slowly add flour mixture to chocolatebeet mixture and mix just until evenly combined. Transfer to prepared Bundt pan with batter angled so that it is about 1-in (2.5 cm) higher on the sides than in centre (this helps to even out the bottom while baking and when flipped out on the serving plate). Place in centre of oven and bake for about 45 to 50 minutes or until a skewer inserted in middle comes out clean. Cool in pan for about 15 minutes before inverting on a wire cake rack. Cool completely before glazing with Dark Chocolate Ganache.
To make DARK CHOCOLATE GANACHE: Combine chocolate and butter in a mixing bowl. In a saucepan, over medium heat, heat cream until just boiling and pour over chocolate mixture. Stir slowly until melted, smooth and glossy. Drizzle over cooled cake and let set 15 to 20 minutes before serving.
Drink Pairings