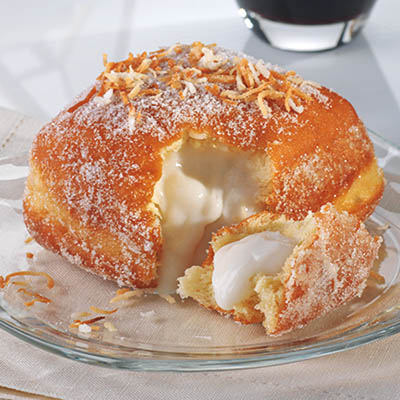 COCONUT CUSTARD-FILLED PORTUGUESE MALASADAS
Ingredients
Serves 12 doughnuts
2 cups (500 ml) coconut milk
1 cup (250 ml) water, divided
½ cup (125 ml) granulated sugar
½ tsp (2 ml) + 1 tsp (5 ml) vanilla extract
1 pkg dry active yeast, about 1 tbsp (15 ml)
1½ cups (375 ml) granulated sugar, divided
½ cup (125 ml) half & half
2 tbsp (30 ml) unsalted butter, melted
4 cups (1 L) bread flour, plus extra for dusting
vegetable oil, for frying
Instructions
To make COCONUT CUSTARD FILLING: In a saucepan, mix together coconut milk, ½ cup (125 ml) water and sugar. Stir over medium heat and bring to a light boil.
In a small bowl, whisk together remaining ½ cup (125 ml) water and cornstarch. Add to coconut milk mixture. Whisk until it comes to a boil and thickens. Remove from heat and stir in ½ tsp (2 ml) vanilla extract. Cool to room temperature, cover with plastic wrap and refrigerate for at least 2 hours.
To make MALASADAS: In a small bowl, combine yeast, 1 tsp (5 ml) sugar with 2 tbsp (30 ml) warm water. Mix until yeast dissolves. Set aside until foamy, about 5 minutes.
In a large bowl, beat eggs with an electric stand mixer until light and lemoncoloured. Add yeast mixture, ½ cup (125 ml) sugar, milk, half & half, melted butter and salt. Mix at medium speed until combined. Slowly beat in flour until smooth.
Transfer to a lightly greased bowl and cover loosely with plastic wrap and a tea towel. Set aside in a warm place until dough doubles in size, about 1½ hours. Punch dough down, then with oiled hands, pinch off pieces about a size of a golf ball. Place on greased baking sheets. Cover with a clean dish towel and set aside in a warm place to rise again for 20 minutes.
Lightly flour surface to roll dough and line 2 baking sheets with parchment paper. Grease parchment paper and set aside. Place remaining sugar in a shallow mixing bowl. Set aside.
Roll dough on floured surface into a 12-in (30 cm) square about ½-in (1.25 cm) thick. Cut into 3-in (8 cm) squares or circles and place on prepared baking sheets 3-in (8 cm) apart. Gather and reuse scraps. Cover loosely with plastic wrap and set in a warm place until doubled in size, about 1 hour.
As dough is rising the second time, heat about 2-in (5 cm) vegetable oil to 325 F (170 C) in a deep fryer or a heavy, deep Dutch oven over medium heat.
Using scissors, cut Malasadas out of parchment paper, leaving about 1-in (2.5 cm) around the sides of each. The paper makes it easier to transfer them to the frying oil. Working in batches, place two of them into the hot oil, paper side up. Use tongs to peel off and discard paper. Cook, flipping once, until puffed and golden, 2 to 3 minutes. Transfer to a baking sheet on a wire rack. Repeat with remaining Malasadas. Let cool completely then toss with sugar.
Using the tip of a paring knife, cut a ½-in (1.25 cm) deep slit into one end of each Malasada. Slide a chopstick in the hole and carefully move from right to left a couple times to create a pocket for the filling.
Transfer Coconut Custard Filling to a small pastry bag fitted with a medium round tip. Carefully insert just the tip of the pastry bag into the slit and gently squeeze pastry bag until the Malasada feels just full. Repeat until all are filled. These are best served the day they are made.
Drink Pairings