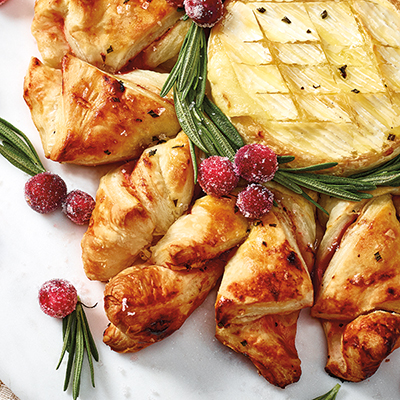 CRANBERRY AND BRIE SNOWFLAKE
Ingredients
Serves 10 to12
1 cup (250 ml) white sugar, divided
½ cup (125 ml) fresh cranberries, thoroughly dried
1 package frozen puff pastry sheets, about 1 lb (500 g), defrosted in refrigerator overnight
1 x 8 oz (226 g) wheel of brie
1 tsp (5 ml) extra-virgin olive oil
1 cup (250 ml) whole cranberry sauce
1 tbsp (15 ml) whipping cream
Instructions
In a small saucepan over medium heat, add ½ cup (125 ml) sugar and the water. Let sugar dissolve, then stir. Bring to a boil then turn off heat.
Toss cranberries in sugar syrup, then transfer to a wire cooling rack placed over a sheet pan. Let cranberries dry for 1 hour, then toss cranberries in remaining sugar.
Preheat oven to 375 F (190 C).
Lay out 2 sheets of puff pastry. Using a dinner plate as a guide, cut pastry into a circle. Now cut a smaller circle out of middle of each pastry circle, using the wheel of brie as a guide. Discard inner circle of pastry. You should now have a thick ring of pastry.
Lay 1 pastry ring on a parchmentlined baking tray and place brie in hole in middle. Score brie and brush with olive oil. Spread cranberry sauce on pastry.
Lay remaining pastry ring on top of cranberry sauce. Using a paring knife, cut a line in pastry from brie to edge of ring. Repeat around entire pastry ring, spacing about 1-in (2.5 cm) apart.
Take 2 pieces of cut pastry and twist them towards each other, then secure them together at end. Repeat with remaining cuts on ring; it will now look like a snowflake!
In a small bowl, mix together egg, whipping cream and salt to make an egg wash. Brush egg wash on pastry. Bake snowflake for 20 to 25 minutes, or until pastry is golden brown and cooked through.
Garnish with sugared cranberries and rosemary. Serve warm.
Drink Pairings