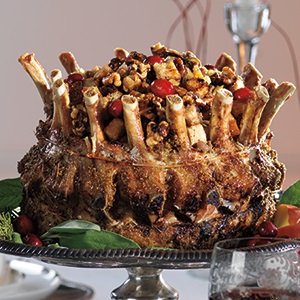 CROWN ROAST OF PORK WITH SAUSAGE, HERBS, APPLES AND NUTS
Ingredients
Serves 16
1 cup (250 ml) cubed sourdough bread
2 tbsp (30 ml) extra-virgin olive oil, plus extra, if needed
2 pork sausages, casings removed
1 red onion, peeled, halved and thinly sliced
2 large garlic cloves, sliced
½ cup (125 ml) fresh sage leaves, torn into pieces
¼ cup (60 ml) chopped walnuts
1 Honeycrisp apple, unpeeled, cored and diced
¼ cup (60 ml) cranberries, fresh or frozen, thawed
salt and freshly ground black pepper
8 lb (4 kg) crown roast of pork, about 16 ribs, rib ends frenched
½ cup (125 ml) finely minced fresh rosemary
3 tbsp (45 ml) fennel seeds, crushed with a mortar and pestle
1 tbsp (15 ml) sea salt, plus extra
freshly ground black pepper
1 cup (250 ml) chicken stock
2 tbsp (30 ml) balsamic vinegar
1 tbsp (15 ml) brown sugar
2 tsp (10 ml) Worcestershire sauce
1 tsp (5 ml) tapioca starch (optional)
Instructions
To make Stuffing, preheat oven to 325 F (170 C). Spread bread cubes in a single layer on a baking sheet. Bake in middle of oven for 15 minutes or until crisp and lightly golden.
While bread is toasting, heat oil in a large, heavy-bottomed saucepan. Add sausage and stir-fry over medium heat, breaking up meat with a fork. Sauté until pork is crumbly and cooked through. Transfer to a large bowl and set aside.
To saucepan, add onion, garlic, sage and nuts and sauté over medium-low heat, stirring often until onion softens. Add splash of oil, if needed. Add apple and cranberries and stir until slightly softened. Transfer to bowl with sausage and add toasted bread cubes. Fold together, using a large wooden spoon and season with salt and pepper, to taste.
To make Roast, place crown roast of pork in a large roasting pan. Season inside cavity with salt and pepper. Mound prepared stuffing into cavity. In a small bowl, combine rosemary, fennel and salt. Stir, pressing ingredients together with back of a spoon to blend the natural herb oils with salt, to form a paste. Add a couple drops oil if mixture seems too dry. Using your fingertips, rub salted herb paste over outside of pork roast. Wrap tips of rib bones with foil to prevent burning. Cover stuffing in middle of roast loosely with a small dome of foil. Leave remaining roast exposed.
Set oven rack in bottom third of oven. Bake roast until instant-read thermometer registers 155 F (68 C) when inserted into meat portion. Do not touch bones with thermometer or reading won't be accurate. Roast should be fully baked after 2¼ to 2¾ hours. Remove from oven and transfer roast with stuffing intact to a heated carving platter. Cover loosely with foil and let rest for 15 to 20 minutes. Temperature of meat will rise to 160 F (71 C) as it rests. Meat will be slightly pink.
To prepare Sauce, skim fat from pan drippings. Place roasting pan over 1 or 2 burners, depending on size of pan. Add all sauce ingredients and bring to a boil, stirring and scraping up brown bits from bottom of pan. Pour through a fine sieve into a small saucepan. Add salt and pepper, to taste. For a thicker sauce, sprinkle in a little tapioca starch and gently simmer a couple of minutes. Cover and keep warm over low heat until ready to serve.
Remove all foil from roast. Carve roast into chops by cutting between ribs. Serve on a mound of stuffing with a little sauce drizzled over top. Roast is excellent served with your favourite vegetables and fluffy mashed potatoes.
Drink Pairings