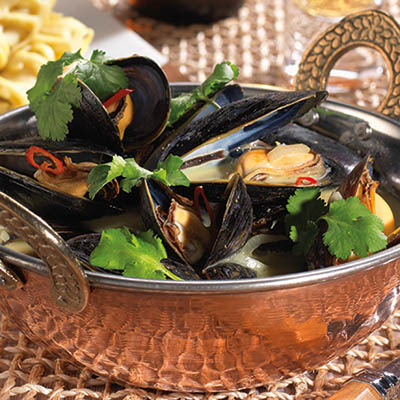 CURRIED THAI MUSSELS SERVED WITH ROTI JALA
Ingredients
Serves 4
1 cup (250 ml) all-purpose flour
½ cup (125 ml) coconut milk
1 tbsp (15 ml) vegetable oil
1 tsp (5 ml) vegetable oil
1 small shallot, peeled and thinly sliced
1 tbsp (15 ml) green curry paste
1-in (2.5 cm) piece galangal root
2-in (5 cm) piece lemon grass, crushed
1 small Thai red chili, sliced in half (optional)
1 tbsp (15 ml) palm sugar
1 x 330 ml bottle Singha beer
½ cup (125 ml) coconut milk
4 lbs (2 kg) mussels, scrubbed and debearded, discarding any that remain open when tapped
salt and freshly ground pepper, to taste
8 sprigs cilantro, washed and trimmed, for garnish
Instructions
To make ROTI JALA: In a bowl combine all ingredients except for oil and whisk until no lumps remain. Strain batter and transfer to a squeeze bottle.
Lightly oil a 10-in (25 cm) non-stick frying pan with vegetable oil and heat over medium heat. Pour batter into hot pan, using a swirling motion to create a "net-like" pancake. Cook until batter is lightly brown on bottom and batter is set on top. Once batter is set, fold into quarters or roll up and transfer to a warm serving plate. Cover to keep warm while preparing mussels.
To make MUSSELS: Heat oil in a large saucepan over medium heat. Add shallot and sweat until translucent.
Add curry paste and continue cooking until paste becomes fragrant. Add lime leaf, galangal root, lemon grass, chili (if using), palm sugar, beer, fish sauce and coconut milk. Stir to combine.
Add mussels and cover with tightfitting lid. Cook for 6 to 7 minutes, or until all mussels have opened. Discard any mussels that remain closed.
Taste broth and adjust seasonings with salt and pepper, if desired. Serve in a large serving bowl and garnish with cilantro sprigs and lime wedges. Serve with Roti Jala.
Drink Pairings