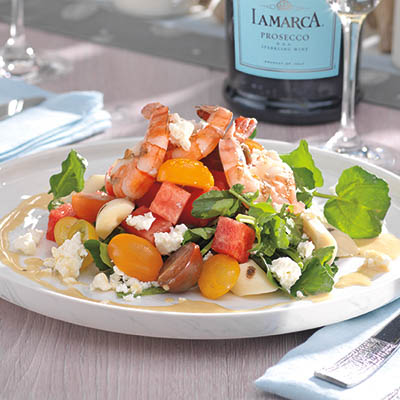 FRESH MELON AND GRILLED PRAWN SALAD
Ingredients
Serves 4 to 6
2 tbsp (30 ml) + 3 tbsp (45 ml) extra-virgin olive oil, divided
1 tbsp (15 ml) + 1 tbsp (15 ml) Dijon mustard, divided
salt and freshly ground pepper
1 lb (500 g) large prawns (21/25 size), peeled, deveined, tails left intact
1 tin canned hearts of palm, drained and patted dry
2 tbsp (30 ml) champagne vinegar
1 tbsp (15 ml) finely minced shallot
2 bunches fresh watercress, rinsed, trimmed tough stalks and dried well
1 basket heirloom cherry tomatoes, halved
8 to 10 basil leaves, finely julienned
small handful mint leaves
2 cups (500 ml) ½-inch (1.25 cm) diced watermelon
4 oz (125 g) feta cheese, crumbled
Instructions
Preheat barbecue to medium-high.
Whisk in a medium bowl, 2 tbsp (30 ml) olive oil, 1 tbsp (15 ml) mustard, lemon juice and zest, minced garlic, salt and pepper. Add prawns and toss well to coat. Let marinate for about 10 to 15 minutes.
Thread the prawns onto metal skewers. Toss the hearts of palm with a bit of olive oil and season with salt and pepper. Grill the prawns and hearts of palm, turning once, until they have nice grill marks and the prawns are just cooked through, about 2 minutes each side. When cool enough to handle, halve the hearts of palm lengthwise, then cut crosswise into thirds on the bias. Remove prawn from skewers.
In a small bowl whisk the remaining 1 tsp (5 ml) mustard with the vinegar, shallot, honey and remaining 3 tbsp (45 ml) extra-virgin olive oil. Season with salt and pepper.
In a large salad bowl, toss the watercress, basil and mint leaves with a light drizzle of the vinaigrette just to coat. Place on platter or divide amongst chilled serving plates. Sprinkle with diced watermelon and cherry tomatoes halves. Drizzle lightly with vinaigrette. Garnish with grilled hearts of palm, prawns and crumbled feta.
Drink Pairings