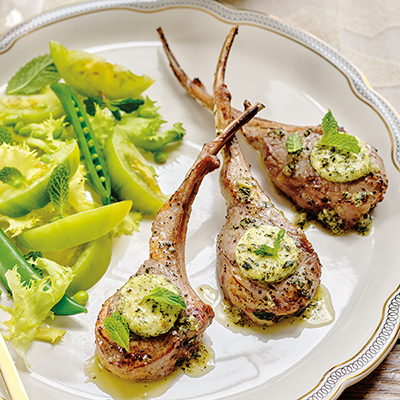 Grilled Lamb Chops with Mint Gremolata Butter
Ingredients
Serves 4
2 tbsp (30 ml) Dijon mustard
⅓ cup (75 ml) packed fresh mint leaves, plus extra for garnish
4 medium garlic cloves, crushed
salt and pepper, to taste
8 lamb rib chops (rack of lamb)
2 tbsp (30 ml) fresh rosemary leaves
salt and pepper, to taste
⅔ cup (150 ml) butter, softened
⅔ cup (150 ml) lightly packed torn fresh mint leaves
2 tbsp (30 ml) fresh lemon juice
Instructions
To prepare lamb, in a large baking dish, combine mustard, olive oil, mint, rosemary and garlic. Stir and muddle herbs and garlic into oil. Season generously with salt and pepper, add lamb and gently massage marinade into chops. Cover and refrigerate for 2 hours.
Meanwhile, make Mint Gremolata Butter. On a cutting board, using a large knife, mince garlic, then add lemon zest, rosemary, salt and pepper and continue chopping until very finely minced. In a small high-sided container, combine garlic mixture, butter, mint and lemon juice. Using a hand-held blender, blend until smooth, then season to taste with salt and pepper. Transfer butter to a piece of parchment paper and roll it into a log, about 6-in (15 cm) long, twisting ends of paper tightly to make a neat, compact roll. Place in refrigerator or freezer for 2 hours.
Preheat oven to broil. Remove chops from marinade, season with salt and pepper and place on a foil-lined baking sheet. Broil lamb on one side for 3 minutes, then flip and cook until medium-rare, about 3 more minutes. Remove from oven and allow to rest for 5 minutes.
To serve, remove Mint Gremolata Butter from refrigerator. Divide log into two halves, reserving one half for another use (can be frozen for up to 1 month and is great on pasta, steamed potatoes and for finishing sauces and gravies). Slice remaining butter into 8 rounds. Transfer lamb chops to a serving platter and top each with a round of butter. Garnish with fresh mint and serve.
Drink Pairings