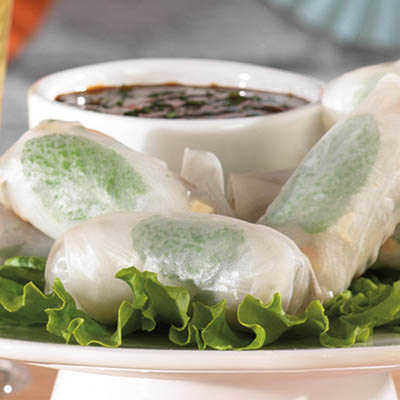 Ingredients
Serves 16 Rolls
1 tbsp (15 ml) extra-virgin olive oil
1 tsp (5 ml) Chinese five-spice powder
3 oz (90 g) dried rice vermicelli noodles
1 medium carrot, trimmed, peeled and grated
⅓ cup (75 ml) chopped fresh mint, plus extra
3 tbsp (45 ml) chopped fresh cilantro, divided
¼ cup (60 ml) roasted cashews, chopped
1 tbsp (15 ml) peeled and minced fresh ginger root
2 tbsp (30 ml) fresh lime juice
1 tsp (5 ml) light brown sugar
16 x 8-in (20 cm) rice paper rounds
½ cup (125 ml) hoisin sauce
2 tbsp (30 ml) unseasoned rice vinegar
1 green onion, trimmed and finely sliced
½ tsp (2 ml) crushed red pepper flakes
Instructions
Warm oil in a frying pan over medium heat. Add ground lamb, Chinese f ive-spice and salt. Cook, stirring often, until lamb is no longer pink, about 5 minutes. Drain off excess fat before transferring to a bowl. Set aside to cool slightly.
Meanwhile, place noodles in a heatproof bowl and cover with boiling water. Set aside until softened, about 5 minutes. Drain, rinse under cold water and allow to drain again thoroughly. Cut noodles with scissors into roughly 4-in (10 cm) lengths.
In a large bowl, toss together noodles, lamb, carrot, chopped mint, 2 tbsp (30 ml) cilantro and cashews. In a separate small bowl, whisk together ginger, garlic, lime juice and sugar until sugar has dissolved. Pour dressing over lamb mixture and toss to combine.
Place a lightly dampened tea towel on a baking tray and fill a shallow baking dish with warm water. Dip rice-paper rounds, 1 at a time, in warm water, then place on another tea towel to blot excess water. Place 2 mint leaves about 1 inch from edge of each round before topping with about 2 to 3 tbsp (30 to 45 ml) lamb mixture. Roll up, folding in edges, to enclose filling. Place on prepared baking tray with dampened tea towel and cover with another lightly damp tea towel while making remaining rolls. Once assembled, lamb and mint rolls may be lightly covered with plastic wrap and refrigerated for up to 2 hours.
To make dipping sauce, in a small bowl, whisk together hoisin sauce, rice vinegar, green onion, crushed red pepper flakes and remaining 1 tbsp (15 ml) chopped cilantro. Transfer to a serving bowl and refrigerate until ready to use.
To serve, allow rolls to come to room temperature for 20 minutes, if previously refrigerated. Arrange on serving platter with dipping sauce alongside.
Drink Pairings