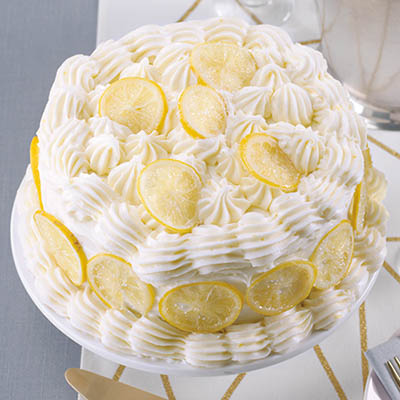 LEMON POPPYSEED CAKE WITH LEMON LAVENDER CREAM CHEESE ICING
Ingredients
Serves 8 to 10
2¾ cups (675 ml) cake flour
2 tsp (10 ml) baking powder
3½ tbsp (52 ml) poppyseeds
¾ cup (175 ml) unsalted butter, room temperature
1½ cups + 1½ tbsp (375 ml + 22 ml) sugar, divided
2 tbsp (30 ml) lemon zest
1 tsp (5 ml) lemon extract
½ tsp (2 ml) vanilla extract
1⅓ cups (325 ml) buttermilk
5 tbsp (75 ml) lemon juice, divided
LEMON LAVENDER CREAM CHEESE ICING:
8 oz (250 g) cream cheese, softened
½ cup (125 ml) unsalted butter, softened
¼ cup (60 ml) salted butter, softened
1 tsp (5 ml) grated lemon zest
1½ tsp (7 ml) dried lavender buds, ground
½ tsp (2 ml) vanilla extract
2 tbsp (30 ml) lemon juice
3⅓ cups (825 ml) icing sugar
2 tbsp (30 ml) lemon juice
2 small lemons, cut into ⅛-in (0.25 cm) thick rounds; discard seeds
Instructions
Preheat oven to 350 F (180 C). Butter two 9-in (23 cm) round cake pans then line with a round of parchment paper. Butter parchment, lightly dust pans with cake flour and shake out excess. Set aside.
Sift flour into a large mixing bowl. Add baking powder, baking soda, salt and poppyseeds, whisk together to mix. Set aside.
In bowl of an electric mixer fitted with paddle attachment, cream together butter, 1½ cups (375 ml) sugar and lemon zest until pale and fluffy. Beat in canola oil and then 1 egg at a time, mixing just until combined after each addition. Beat in lemon extract and vanilla extract.
In a measuring cup, mix together buttermilk with 3 tbsp (45 ml) lemon juice, set aside. Add ⅓ of flour mixture to butter mixture. Mix on low speeds until combined. Add in half the buttermilk mixture and mix until just combined. Add another ⅓ of flour mixture and mix until just combined. Mix in remaining buttermilk mixture and finish by mixing last ⅓ of flour mixture. Scrape sides and bottom and gently fold in until batter is evenly incorporated.
Divide batter between 2 prepared cake pans. Spread in an even layer. Bake in preheated oven until toothpick inserted into centre of cake comes out clean, about 30 to 35 minutes.
While cakes are baking, make a simple syrup by mixing together remaining 1½ tbsp (22 ml) sugar with 2 tbsp (30 ml) lemon juice, stirring until sugar is dissolved.
Remove cakes from oven and let cool 5 minutes, then run a knife around edges of cakes to loosen and invert onto wire racks. While cakes are warm, brush with lemon simple syrup. About halfway through cooling, transfer cakes to an airtight container. Let cool completely before icing.
To assemble, carefully cut off any domed part of the 2 rounds, ensure they are flat. Turn 1 cake over so that flat bottom is on top. Spread a thick layer of icing over flat surface. Cover with other round, making sure bottom is on top. Spread a light layer of the frosting over whole cake, careful not to create too many crumbs. Refrigerate to chill cake, when outside icing layer of cake is chilled, spread remaining icing all around. Use pastry bag fitted with a star attachment to create decorations, piping icing into a scallop pattern or desired design. Garnish with cooled Candied Lemon Slices.
To make LEMON LAVENDER CREAM CHEESE ICING: Using an electric mixer fitted with beaters, mix together cream cheese, butters, lemon zest, lavender and vanilla extract until light and fluffy. Reduce speed and slowly mix in lemon juice with icing sugar until well incorporated. Increase speed and beat until light, fluffy and smooth for a minute until well blended. If icing is too soft to spread, freeze in 3-minute increments as needed, stirring between increments.
To make CANDIED LEMON SLICES: In a large skillet over medium heat, stir together sugar, lemon juice and water until sugar is dissolved. Add lemon slices and simmer gently, keeping slices in a single layer and turning occasionally, 14 to 16 minutes or until slightly translucent and rinds are softened. Remove from heat. Place slices in a single layer in a wax paperlined jelly-roll pan, using tongs. Reserve lemon syrup for lemonade or cocktails.
Cool completely, about 1 hour. Cover and chill 2 hours to 2 days.
Drink Pairings