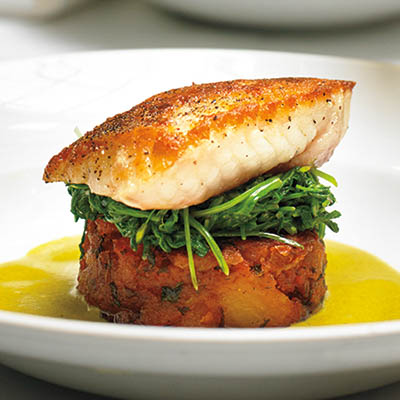 LOCAL LING COD WITH TANDOORI POTATOES IN GINGER-COCONUT MOLE
Ingredients
Serves 4
6 tbsp (90 ml) grapeseed oil
2 tbsp (30 ml) yellow mustard seeds
1 tbsp (15 ml) crushed, dried curry leaf
1 tbsp (15 ml) whole caraway seeds
2 tbsp (30 ml) minced, peeled ginger root
2 tbsp (30 ml) minced, seeded serrano pepper
¼ cup (60 ml) granulated sugar
2 tbsp (30 ml) fresh lime juice
6 tbsp (90 ml) chopped fresh cilantro
4 tsp (20 ml) Ras al Hanout
6 cups (1.5 L) coconut milk
1½ lbs (675 ml) baby Yukon Gold potatoes
6 tbsp + 2 tsp (100 ml) Tandoori Masala
1 tbsp (15 ml) Amchur Powder (dried mango powder)
½ lb (250 g) cold unsalted butter, finely diced
1 bunch fresh cilantro, chopped
salt and freshly ground black pepper
4 x 6 oz (180 g) ling cod fillets, skinned and boned
salt and fresh ground black pepper
1 tbsp (15 ml) grapeseed oil
3 tbsp (45 ml) unsalted butter
1 tbsp (15 ml) grapeseed oil
1 large shallot, peeled and finely minced
3 to 5 garlic cloves, peeled and minced
2 tbsp (30 ml) unsalted butter
½ lb (250 g) trimmed baby spinach leaves
⅓ cup (75 ml) dry white wine
salt and freshly ground black pepper
Instructions
To make GINGER-COCONUT MOLE: Heat grapeseed oil in a small heavy saucepan. Add mustard seeds, curry leaf and caraway and cook for 1 minute over medium to medium- high heat or until seeds begin to pop. Add garlic, ginger, serrano pepper and sugar. Stir over medium heat until sugar begins to caramelize. Add lime juice to deglaze pan. Stir in cilantro, turmeric and Ras al Hanout while lime juice still in pan to absorb spices. Stir in coconut milk and bring to a low boil. Reduce heat to simmer and cook, uncovered until mixture is reduced by a quarter. Strain sauce through a fine-meshed sieve and set sauce aside to cool. Can be refrigerated, covered for a couple of days. Simply reheat small portions as needed.
To make TANDOORI DICED POTATOES: Place whole potatoes in a large saucepan and cover with about 1-in (2.5 cm) water. Add a pinch of salt and bay leaves. Bring to a gentle boil, cover and with lid ajar, reduce to simmer. Cook until tender but still firm enough to hold their shape. Drain and set aside until cool enough to handle.
In a large bowl, combine masala and Amchur Powder. Chop or dice potatoes and mix into spices to evenly distribute. Crush potatoes into spices, if desired. Cover and set aside at room temperature for 1 hour or up to 1 day for spice flavours to enhance potatoes.
Preheat oven to 400 F (200 C). Spread potato mixture out on a parchment- lined baking sheet. Dot with diced butter and lemon zest. Bake in oven for 15 minutes or just until they start to brown and develop a little crunch.
Remove tray to a rack and cool for 5 to 10 minutes. Transfer to a bowl and add lemon juice, cilantro and salt and pepper to taste. Mix with hands or a spoon. Can be served as is, if desired, or press into metal ring moulds to form a small puck. Refrigerate pucks (or freeze) on a baking tray, covered with plastic wrap. Can be refrigerated for a couple of days. Or frozen for a couple of weeks. Bake as many pucks as needed at 350 F (180 C) until piping hot.
To cook LING COD: Season with salt and pepper. Heat oil in a large, heavy frying pan until almost smoking. Using tongs, add cod fillets, skin-side down, and sear in hot oil, shaking pan to prevent them from sticking. Reduce heat to medium and cook for another minute or until bottom is golden. Add butter and lemon slices to the empty spaces in pan. Once butter has melted, flip fish fillets and turn heat off. The residual heat will cook fish fillets through. If fillets are extra thick, place in a warm oven for 10 to 15 minutes.
While fish rests, prepare Seasoned Baby Spinach. Heat oil in a large, heavy saucepan over high heat. Add shallots and garlic and cook until golden brown, stirring often. Add butter. Once melted, add spinach. Cook for 5 to 6 seconds, gently flipping leaves with tongs. Add wine and cook a few seconds longer or until desired doneness. Season with lemon, salt and pepper. Use a slotted spoon to serve.
To serve, place a large spoonful of warmed Ginger-Coconut Mole in bottom of a shallow serving dish. Rest a warmed potato puck in sauce and place a spoonful of spinach on top. Top with a fillet of cod. Serve immediately.
Drink Pairings