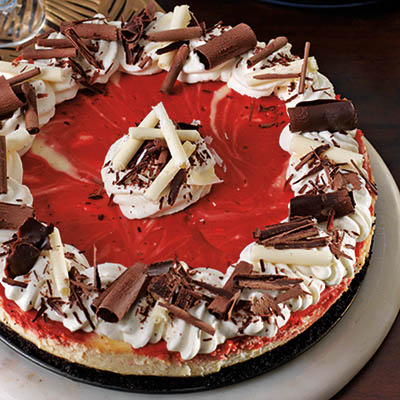 MARBLED RED VELVET CHEESECAKE
Ingredients
Serves 6 to 8
1½ cups (375 ml) chocolate cookie crumbs
6 tbsp (90 ml) melted butter
1 oz (30 g) bitter or semi-sweet chocolate
3 x 8 oz (250 g) packages cream cheese, softened to room temperature
1 tsp (5 ml) vanilla extract
1 to 3 tsp (5 to 15 ml) red food colouring
chocolate curls, to serve
Instructions
To make CRUST: Preheat oven to 300 F (150 C).
In a bowl, mix together cookie crumbs, sugar and melted butter until well combined. Press firmly onto bottom of a greased 8-in (20 cm) springform pan. Place on middle rack of oven and bake for 10 minutes. Remove to cool. Keep oven on.
To make FILLING: In a small bowl, add chocolate and butter and microwave, 20 seconds at a time, until melted. Stir until well blended. Set aside.
In a large mixing bowl, beat cream cheese until smooth, then add sugar and vanilla and beat until well incorporated, smooth and light, scraping down sides frequently. Add eggs and beat just until eggs are blended, about 10 seconds.
Transfer about a third of the batter into a small mixing bowl and fold in the melted chocolate mixture and 1 tsp (5 ml) red food colouring. Add more, according to desired colour density.
Pour white batter into cooled springform pan and spoon red batter in a few dollops over the top. Using a knife or spatula, gently make a few swirled patterns in batter. Do not over-swirl.
Transfer to middle rack of oven and bake for 1 hour, or until centre no longer looks liquid when pan is gently moved. Do not check too early, as this can cause your cheesecake to crack. Remove from oven and cool on a wire rack. After about 15 minutes, gently run a knife around side of pan to help release crust. Do not release springform until ready to serve. Allow to cool, then refrigerate 8 hours or overnight. Garnish with whipped cream and chocolate curls.
Drink Pairings