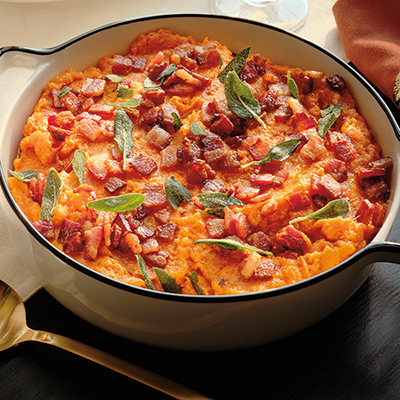 Mashed Yams with Bacon & Sage
Ingredients
Serves 8-10
4 large yams, peeled and left whole
6 rashers thick-cut bacon, cut into 1-in (2.5 cm) pieces
salt and pepper, to taste
Instructions
Place yams in a large pot and add about 2-in (5 cm) water. Cover with a lid and bring to a boil over high heat. Reduce heat and simmer until yams are fork-tender, about, about 20 to 25 minutes.
Meanwhile, cook bacon in a large frying pan over medium heat until crisp, about 10 to 12 minutes. Remove bacon to a paper towel-lined plate. Add sage leaves to bacon fat (careful, as they will pop) and cook until crisp, flipping halfway through, about 2 to 5 minutes. Transfer to plate with bacon.
Drain yams and add butter. Mash yams and season to taste with salt and pepper. Transfer to a serving dish and top with bacon and sage.
Drink Pairings