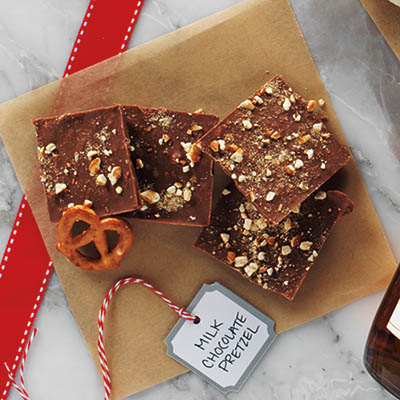 MILK CHOCOLATE PRETZEL BARS
Ingredients
Serves 16 Bars
8 oz (250 g) milk chocolate
¼ cup (60 ml) ground pretzel crumbs, plus extra
Instructions
Lightly oil an 8 x 8-in (20 x 20 cm) square baking dish and line with plastic wrap, overlapping edges. Alternatively, use a 6-bar untreated chocolate mould.
Melt milk chocolate in double boiler or a bowl over simmering water. Stir gently as it begins to melt. Remove from heat just before fully melted and continue stirring until smooth.
Stir in pretzel crumbs, reserving extra. Pour into prepared baking dish and smooth top. Scatter top with extra pretzel crumbs. Alternatively, spread in a chocolate bar mould. Sprinkle with extra crumbs.
Refrigerate until firm, about 3 hours or preferably overnight.
Lift firmed chocolate from baking dish and place on a cutting board. With a warm knife, cut into 2 x 2-in (5 x 5 cm) bars. If using a chocolate mould, gently dislodge bars from mould with a knife.
Store in a tightly covered container in a cool place for several days.
Drink Pairings